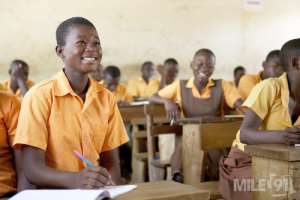 Due to the current disturbing rate of the novel coronavirus (Covid-19) in the world, President Akufo-Addo announced shut down all public gatherings like schools closed, religious, sports activities chop ban as part of measures by the government to curb the spread of the novel coronavirus. And then the GES collaborated with the Ghana Broadcasting Corporation to launch the Ghana Learning TV.
Which was the new 24-hour free-to-air channel is geared towards distance learning. With various subjects such as Mathematics, English Language, Social Studies and Integrated Science being taught to students. So that students will get the opportunity to benefit from the initiative as they will be taken through televised lessons based on a well-curated time table from basic school to senior high school (SHS). We were told that the Ghana Learning TV channel will be on DStv, StarTime, GOtv and the rest platforms.
Unfortunately, when the Ghana Learning TV introduced, deaf student was neglected because there was lack of proved sign language interpreters (SLIs) to help deaf student to benefit as that of normal hearing students. Deaf organization and some organizations advocated and appealed to the Minister of education and GES to introduced SLIs to help to interpretation to deaf student. SLIs are those help to translation communicate with more people in the deaf and hard of hearing community. It took some times before there request considered. So now there are SLIs to help deaf students. As parents and an individual those who have deaf members of the family and are student. I will like to appeal and urge you all that now it your return and it is your responsible to you to help them to access Ghana Learning TV channel said Mr. Bapio Ibrahim who is the regional president for the Ghana National Association of the deaf (GNAD)-Northern Regional branch.
On the behalf of the whole student that both normal hearing and deaf student, I will like to appeal the minister of education and the GES to ensuring that Ghana Learning TV show be show in popular tv such as Ghana TV, Ghana TV3. This is because not all family are able to obtain StarTime, DSTV, and the like. I also appeal the GES that not all students are benefiting from online learning because the cost of data, not all family can have smarter phone to access that Apps, not every community have electricity and so on.
To the GNAD which is the National Umbrella Organization for Deaf people of Ghana. Than for the good work you have done with all teams national level, Regional level, district level, and the like to mobilized deaf people of Ghana. To the Executive Director of the Henry Djaba Memorial Foundation, Dr. Otiko Afisah Djaba who is a mother, a sister and aunt to PWDs in Ghana. She has demonstrated and potential to treat PWDs as her own children. Thank you for caring so much for Persons with disabilities (PWDs). We will continue to pray for you and others who have a heart for PWDs to succeed in all your endeavors.