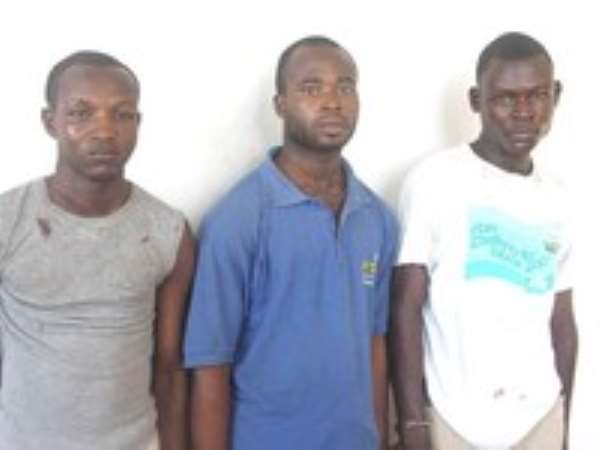 WHEN a hunter on September 18, 2005, discovered the body of a taxi driver at Nyamebekyere, near Anomabo, the Central Regional Police Command thought he was the victim of a hit and run driver.
And even when the deceased, Kwei Nortey's mother, Ms. Veronica Akakpo identified the body as that of her son and told the police that he was a taxi driver who disappeared together with his taxi-cab, the cause of death remained a mystery until the Kumasi police recently impounded a taxi-cab allegedly used for a robbery.
The taxi turned out to be Nortey's and the police have confirmed that he was attacked by three highwaymen named as Francis Cudjoe, 24; Eric Dadzie, 24 and Henry Adu, 31, who beat him up mercilessly, drove a six-inch nail into his head, took his taxi from him and left him to die.
The Regional Police Commander, Rose Bio Atinga, who briefed the Times about the arrest of the suspects, said the police made a breakthrough in their investigations after the Kumasi Police impounded the stolen taxi-cab suspected to have been used in a robbery.
She said one of the Kumasi robbers arrested by the Police mentioned Gyewu from Suame Magazine as the one who gave them the car for the robbery. Gyewu in turn mentioned the three suspects as those who brought the vehicle to him from Mankessim in the Central Region.
Ms. Atinga said investigations by a joint team of police detectives from Kumasi and Anomabo led to the arrest of the three suspects.
Giving the background to the robbery incident, the Regional Police Commander said Nortey's body was discovered in the bush last year by Ekow Sagoe, a hunter.
She said Sagoe reported the incident to the police and the body was conveyed to the hospital mortuary until Ms.Akakpo identified the victim as her son whose taxi cab had been stolen.
Ms. Atinga said the police initially thought Nortey's death was caused by a hit-and-run driver but further examination and subsequent events proved that it was as a result of murder and robbery.
She alleged that two of the suspects, Cudjoe and Dadzie, confessed to the police that they and Adu killed Nortey by driving nails through his head. Adu however denied his involvement in the crime but admitted that Cudjoe and Dadzie were his former colleagues at Manna Heights Hotel at Mankessim.
The Police Commander further said that Cudjoe and Dadzie told the police that they hired the victim's car that day but on reaching Nyamebekyere Village, they asked the driver to stop. They then pounced on him and tortured him to death. After swearing not to divulge the killing to anyone, Adu bought ў50,000 worth of fuel for the journey to Kumasi.
Cudjoe, said he confessed to the crime because despite the oath and other rituals they performed, they were not protected from arrest as they were made to believe.