If They Decide To Compile A New Register, I Will Go And Register — Nunoo-Mensah Defends Jean Mensa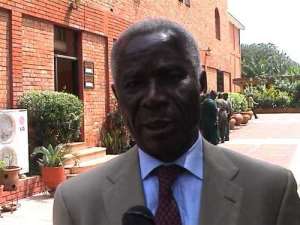 Brig Gen Nunoo-Mensah (rtd)
Brig Gen Nunoo-Mensah (rtd) has said he will hurriedly go and register for a new voters' register when the exercise begins.
"I believe President Nana Akufo-Addo has Ghana's interest at heart, so why should I fight over voters' register?" he asked, adding "if they decide to compile a new register, I will go and register so I can vote as a Ghanaian."
Defends Jean Mensa
Nunoo Mensah described the Electoral Commission's (EC) Chairperson, Jean Mensa, as competent and effective person, who when given the chance, would supervise the upcoming polls peacefully without any trouble.
"Ms Mensa, I know her well, she is a wonderful lady," he sounded praises on the EC boss, indicating that he doesn't see any reason or need for anybody to complain or agitate over the compilation of a voters' register.
According to him, the two past EC leaders, Afari Djan and Charlotte Osei, were also equally competent and up to the task but sadly people always managed to find fault with their work, which was very unfortunate.
Nunoo Mensah observed that virtually all the past EC leaders were accused of being either National Democratic Congress (NDC) or New Patriotic Party (NPP) persons, which he said, was very unfortunate.
He was speaking during a Neat FM programme in Accra.
According to him, there is total mistrust in the country, a situation which he claims has given room for people to make noise and agitate whenever the need arises for the compilation of a new voters' register.
Nunoo Mensah, who has travelled wide across the globe, said in the western world issues of elections were always done in a peaceful atmosphere so he wondered why Ghanaians could not do same.
He raised a red flag about plans by a disgruntled political party to cause mayhem during the December polls.
Without mentioning the name of the political party, he said their fiendish project was informed by the stark reality that they could not win the December polls.
The authorities, he said should address the security challenges that the disgruntled persons sought to pose in the country.
"The people have already intended to be troublesome, if we cannot win then let us destroy it so nobody wins," Nunoo Mensah a known NDC person, said about these faceless people.
According to him, those planning to cause mayhem in the country already know that their ambition to win the polls will not work so they want to hide behind the new register issue to cause trouble.
Nunoo Mensah, without mincing words, stated emphatically that President Nana Addo Dankwa Akufo-Addo was a good man and would not do anything to hurt the country.
He therefore wondered why the opposition NDC opposed every decision of the President.
Nunoo Mensah observed with pain that Ghanaians had developed the habit of always kicking against the decision of a sitting president on political lines, saying "it started from Nkrumah's time."
---Daily Guide