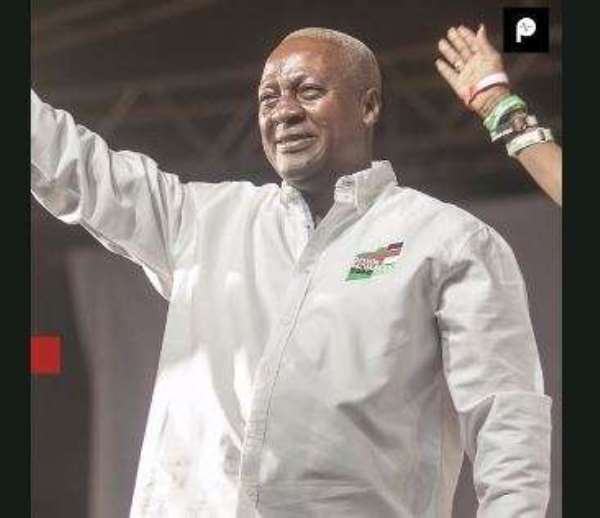 I vividly recall, in the wake of his massive electoral defeat at the hands of the now-President Addo Dankwa Akufo-Addo in 2016, that an international diplomat or renowned politician or political science expert, I forget which, admonished Mr. John Dramani Mahama never to attempt to run for the Presidency in Ghana again or anytime soon. It is now becoming clear to me the fact that Mahama adviser perfectly knew what he was talking, and may even have been privy to the European Airbus SE Mega-Heist Saga that, in retrospect, was fast-rearing to come into the global media limelight. You see, here in the United States, there is this matter-of-factly saying that "When the Feds get the numbers on you, there is absolutely nothing that you can do about that" besides promptly owning up your crime and accepting your rap or punishment. Little Dramani was given ample warning but he unwisely either failed or flatly refused to pay heed to the same. And now, Little Dramani has absolutely no choice or alternative but to quietly bow out of a game in whose participation he had absolutely no right to have participated in, to begin with.
Well, I have this digital news clip before me that I have been keeping on file for some five days now, in order to give myself enough time to fully digest the contents of the same. The contents of this news article which are captioned "John Mahama Splashed by Airbus Corruption Affair," is very fascinating if also because it offers the most intimate details of the Mahama Payola Heist to date (TheAfricaReport.com / Ghanaweb.com 5/12/20). But real culprit here, as I see it, is the same woman who took her full paycheck and did absolutely nothing to retrieve the then-Candidate John Dramani Mahama's electioneering campaign promise of retrieving every single pesewa stolen from the purse of the Ghanaian taxpayer by Mr. Alfred Agbesi Woyome. I am here, of course, referring to Mrs. Marietta Brew Appiah-Oppong, the former Mahama-appointed Attorney-General and Minister of Justice, who has been staunchly and vigorously defending her former paymaster ever since the three-nation-exposed European Airbus SE Payola Racket came to light.
Our thief's accomplice homegirl would have Ghanaians believe that even if any kickbacks were exchanged behind closed door in the purchases of the three Model C295 Military Aircraft meant for use by the Ghana Armed Forces (GAF), nevertheless, the Ghanaian taxpayer lost absolutely nothing in this patent act of felonious criminality. Attorney-General Appiah-Oppong scandalously typifies the caliber of borderline retards who constituted the overwhelming bulk of the cabinet appointees of the erstwhile Mahama-led government of the National Democratic Congress. Of course, millions of dollars and pounds sterling were lost by the Ghanaian taxpayer. For starters, the approximately $ 5 Million (USD) involved in the payola racket exclusively went into the wallets and bank accounts of the Gonja-based Mahama Clan and a handful of the latter's European collaborators and some local cronies, one could almost be certain.
I have said here innumerable times that the nation-wrecking members of the Mahama Clan and such geo-tribal allies as the Mahama Ayarigas and the Haruna Iddrisus think and believe that they have an inalienable constitutional right to scam and skim off whatever can be extorted from our National Treasury with the least level of risk or no negative legal and/or judicial consequences. Thus, while one Mahama is studiously engaged in blindly ripping off the Ghanaian taxpayer by negotiating soft-headed and lamebrained contractual agreements on behalf of the nation, another Mahama is engaged in acquiring mineral concessions gratis at the expense of the Ghanaian citizenry at large. And guess what? It was another Mahama clansman at the Presidency who had been enabling such dirty scams. Short of firing squad, the Government needs to, as a matter of urgency, round up all the discretionary age members of the Mahama Clan and quarantine them from the rest of society in perpetuity.
Indeed, but for the vigilance of law-enforcement agents and agencies in Britain, France and the United States and their strict monitoring of OECD (Organization of Economic Cooperation and Development) convention and adherence to trade tenets and protocols of the same, the grubby Mahama Clan would have committed the "Perfect Crime" by literally getting away with their loot and then continued thumbing their noses at Ghanaian citizens and the electorate. Now, this Primitive Looting Brigade has been globally exposed for what they are really made of – rancid scatology! We are also informed that the British newspaper, The Sun, that exposed Little Dramani, had a well-written and detailed news article on the Mahama Heist in its May 14, 2020 edition. Now, it begins to make sense, and I have said this time without number, that the then-President John Dramani Mahama would sick Mr. Anas Aremeyaw Anas and his Tiger-Eye PI gang of investigative mercenaries on the members of Ghana's Judicial System.
The Akan have a saying for the foregoing: it is called "Oyaa Suro Oyaa," roughly translated contextually as "One thief fears another/fellow thief," because invariably there is only so much space or wiggle room for two thieves. It is a crying shame that the noble and venerable society of the Gonjas could produce such a grubby clan of nation-wrecking kleptocrats. May "Divine Providence" save us from the carcinogenic Mahama Clan of Bole-Bamboi!
*Visit my blog at: kwameokoampaahoofe.wordpress.com Ghanaffairs
By Kwame Okoampa-Ahoofe, Jr., PhD
English Department, SUNY-Nassau
Garden City, New York
May 17, 2020
E-mail: [email protected]