Abu Kamara Calls For Caution In PPE Distribution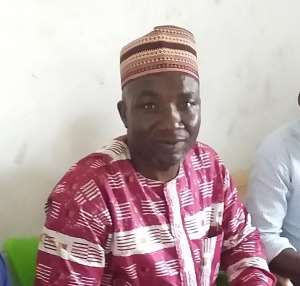 The Parliamentary Candidate of the New Patriotic Party Hon. Abu Kamara has urged his opponents in the National Democratic Congress to be circumspect in the distribution of Personal Protective Equipment in the fight against the global pandemic in the constituency.
Hon. Abu Kamara bemoaned the profound effects the Corona Virus has have on the lives of people that some could hardly procure their own items for protection.
Hon. Abu Kamara shared these sentiments in an interview at his residence today in Buipe, capital of the Central Gonja District.
He said it was disheartening and an extreme display of immaturity for the NDC to put veronica buckets and others items branded with their party posters at the same spot that the NPP has already given.
He emphasised that their reason for doing that was to brew confusion where NDC members washed their hands with the items donated by their party while the NPP also do so with the items gifted by their candidate and party.
Hon. Abu Kamara further noted that COVID-19 has elicited solidarity among peoples of the world and the NDC should not create disunity among the people but also focus on assistance so that the country triumphs over the pandemic.
Hon. Abu said the efforts of the New Patriotic Party are geared towards achieving a 100% recovery of the Coronavirus and recording zero cases before focusing on the December elections but not to answering NDC members who are out for mischief.