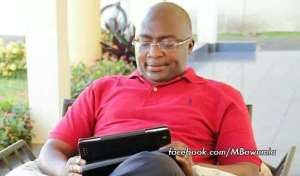 "Today, I launched the Integrated ICT System of Microfinance and Small Loans Centre (MASLOC). This is another innovation and IT solution in line with President Akufo-Addo's vision to digitalise as much of government machinery as possible and all aspects of the economy, making Ghana the most business-friendly country in Africa."
Those were the words of Ghana's vice president, HE Dr Mahamudu Bawumia after the launching of the MASLOC digitisation project on Tuesday, May 12, 2020 The posture of the second gentleman of the land and other government officials on Ghana's DIGITISATION DRIVE continues to baffle and amaze me. Yes, digitisation did not start today, neither did it start in the last decade under the Mills/Mahama administrations. Other past presidents and governments have contributed their quota in that regard.
Of course, governance is said to be a continuous process, though it depends on how one perceives or sees it to be. It will be recalled that, this current NPP government has been accused several of discrediting the previous JM led government they described in opposition as "incompetent" of numerous projects and policies they (the NDC administration) initiated which are now slowly being continued by the current administration. One would have even thought that, "incompetence" should not have been enhanced, promoted or elevated. But what do Ghanaians see today? Denying the previous NDC government the yields of the investments they made in the digitisation drive of the country's economy.
Indeed, Ghanaians deserve to be told the truth. Though the NDC lost the 2016 elections, JM legacies will continue to bear fruits for national development and growth.
After establishing several electronic platforms such as; the e-Parliament, e-Justice, both under the e-Transform Ghana project; the e-Cabinet, e-Workspace platform, e-Health, e-Register, e-Immigration, the Automated Tax Administration System, all under the e-Government project, a National Data Center (the largest in West Africa) was built near the Kofi Annan ICT centre which is an essential part of the e-Government infrastructure. It's aimed at promoting an integrated use of ICT to improve EFFICIENCY and TRANSPARENCY IN GOVERNANCE AND FACILITATE STORAGE, MANAGEMENT AND DISSEMINATION OF DATA FOR BOTH PUBLIC AND PRIVATE ESTABLISHMENTS. Those investments were made to ensure the smooth implementation of the paperless system and free flow of information in Ghana's economic, social, political, judicial, legislative dispensations. And we have begun to feel that as an economy.
Furthermore, there were numerous digitisation initiatives introduced by the Mahama administration in 2016 which superseded the coming into office of this Nana Addo/Bawumia government, but were planned to take effect in 2017 and beyond. Thus the Government online Services (e-Services platform) Project. This project IS BEING implemented by the National Information Technology Agency (NITA) in line with former president Mahama's determination to deepen the utilization of online services with Ghana's emerging digital economy. It serves as the one-stop services portal for Government services.
To make these online services more efficiently and effectively, the previous JM led government introduced the Ghana E-Payment Portal (GEPP) which is an online platform for the payment of Government of Ghana (GoG) services by Ghanaian citizens and all other individuals and/or corporate entities conducting business with GoG. It is envisaged THAT WILL SHORTEN QUEUES, ENCOURAGE PAYMENT FOR GOVERNMENT SERVICES, INCREASE THE PUBLIC ACCESSIBILITY AND EVENTUALLY INCREASE THE VOLUME OF BUSINESS BETWEEN THE GOVERNMENT AND THE CITIZENS IN GHANA.
The platform is designed to accept various payment types, such as:
• Debit/credit cards (International) - VISA
• Debit/credit cards (Local - Ghana)
• Cheque
• Cash and voucher
• Mobile payment
• Bank Transfer
• Others - Paypal, etc
Below are some of the e-Services projects, either have already commenced or yet to:
√ E-Passport (Online passport application) - In December 2016, this project was launched by the JM administration after several pilots being carried out. and IT'S SET TO BE ROLLED OUT IN JUNE 2017. After its operationalisation, one is expected to have his passport within ten days period after successfully submitting his or her personal data ONLINE to the passport institution. That was not the case before.
√ Online renewal of driver's license and vehicle ownership transfer - This initiative commenced in July 2016, and it's aimed at minimizing the frustrations the citizenry go through before acquiring or renewing their driver's license. Before then, it cost a frustrated person GHC 700, GHC 800, GHC 1,000 before acquiring a driver's license instead of GHC 200 or less, due to the middlemen approach. Now, one can apply for a renewal of his driver's license or vehicle ownership transfer on his or her bed.
√ Online Application for Birth or Death certificate - In 2016, this intervention was launched to help the Ghanaian citizen acquire a birth or death certificate within the shortest period of time.
√ E-zwich payment - In the fight to eliminate ghost names from the public payroll system and reduce the wage bill, the Mahama government initiated the payment of public servants via the E-zwich platform in 2015. National Service Personnel, caterers under the School Feeding Programme, LEAP beneficiaries, and the Youth Employment Agency (YEA) programme beneficiaries are currently paid via the E-zwich platform.
√ E-billing - The Ghana Water Company Limited (GWCL) in June 2016 introduced the electronic billing system on a pilot basis, which was aimed at giving efficient, effective, and transparent services to their over 600,000 customers. It was scheduled then to commence in April 2017 and be fully implemented nationwide in 2018, so that billing will be done electronically to minimize the frustrations customers go through before making payments. It could also be done on mobile phones.
Other online services were:
√ online application for police report and finger print check/nominal vetting from the Ghana Police Service CID
√ online application for telecom licenses/authorisations and downloadable forms from the National Communications Authority (NCA)
√ online application for registration of accommodation and catering establishment from the Ghana Tourism Authority (GTA)
√ online application for registration as food product importer from the Food and Drugs Authority (FDA)
√ online application for reconnaissance & prospecting license and cartographic search request from the Minerals Commission (MinCom)
My fellow citizens, if you have ever enjoyed or yet to enjoy the services of the aforementioned electronic or online systems in the acquisition of your passport, birth cert, driver's license, marriage cert, police report, and other licenses and services within a short period of time, REMEMBER that, there was once a president called John Dramani Mahama, who was responsible for those efficient, convenient, fast, and transparent services.
As a citizen H.E Nana Akufo Addo wants me to be, I expect Dr Bawumia to accord Ghanaians the needed respect and appreciate the fact that a lot had been done in the digitisation sector of the economy before this NPP government took office in January 2017. And so, he should give us a break on his digitisation propaganda.
🇬🇭 God bless our homeland Ghana
🇬🇭 Ghanaians must know the truth (Who did what) ..... e-Services, e-Governance, e-Transform projects, JMLegacies
Thank you!
By: Sadiku Katadatu
NDC Youth Activist
Ejura