A Quick Note To Ohemaa Paapabi Esi Yankah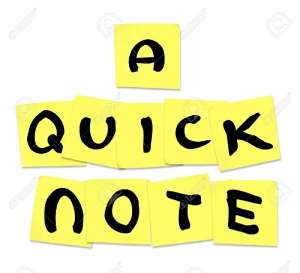 Ohemaa paaapabi Esi Yankah, your father (God bless him) will tell you that if we looked to our past and regularly consulted those steeped in the art and science of ancient African herbal healing, we might have found a way to protect ourselves from such terrifying and econony-wrecking-pandemics, by now. So please do so, too, wai.
And, above all, we just stop those who aren't embarrassed by that dreadful and unhygienic habit of spitting everywhere, by arresting them, trying them swiftly, and sentencing the sods to do two years community service sweeping our filth-laden urban road hard shoulders. Simple. Cool.
Your charming and erudite father is a super-wise man. He is also an honest, very, very qualified and good-looking enough (yes, that matters hugely in elections worldwide, believe you me, so you can live in hope of becoming Ghana's first female President someday, wai, Ohemaa paaapabi), to replace that serial-philanderer and cynical lifelong-playboy, the wastrel John Dramani Mahama, as the NDC'S compromise presidential candidate, wai.
But then, the confounded NDC is so fixated with the endless-dosh John Mahama brings to the table, that they want yet another chance to steal the campaign money they all await from John Mahama, and his super-wealthy bro, Ibrahim (Alhaji Creosus).
Ohemaa paapabi, in case you aren't aware of it, the sods blew the last lot of campaign funds they stole, on bleached-skinned fast-living-women with expensive-tastes, according to bush-telegraph sources. Idiots. Serves them right they lost power. Imagine them having the temerity to insult J. J. Rawlings. Aahhhhhh. Who born dog, I ask? Haaba. Morons. Cool