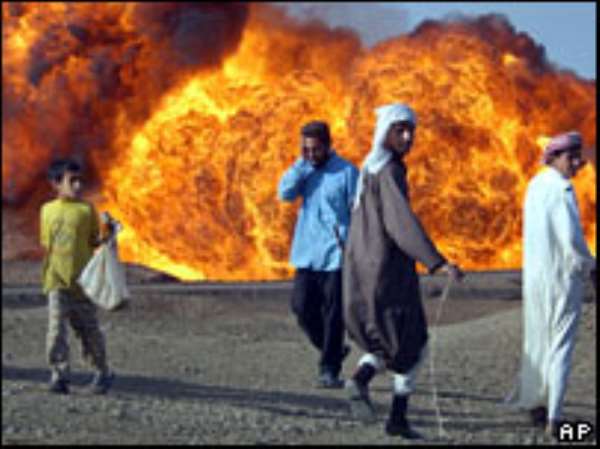 US crude oil futures ended lower as news that US forces had killed al Qaeda's leader in Iraq raised some hope that security would improve in the oil-producing country.
Crude for July delivery settled 47 US cents lower at $US70.35 a barrel on the New York Mercantile Exchange.
The contract was down for a third day in a row, losing three per cent in that period.
In London, July Brent crude also pared losses, ending 14 US cents off at $US69.05
NYMEX July gasoline settled 2.18 US cents down at $US2.1022 per gallon. July RBOB finished down 1.62 US cents at $US2.2787.
July heating oil fell 0.98 US cents to $US1.9856 a gallon.
The death of Iraq's al Qaeda leader, Abu Musab al-Zarqawi, will help improve Iraq's oil production, particularly in the north, Oil Minister Hussain al-Shahristani told Reuters on Thursday in an interview in Istanbul.
Meanwhile in Iran, President Mahmoud Ahmadinejad said on Thursday threats would not work in any talks to solve a dispute over his country's nuclear program. But he also said Iran was ready to clear up "misunderstandings" with the world.
Prices fell sharply on Wednesday after the U.S. Energy Information Administration said domestic crude stocks rose by 1.1 million barrels to 346.6 million barrels last week, putting inventories 14.1 million barrels higher than a year ago.
LONDON METALS EXCHANGE
London Metal Exchange copper closed down some six per cent and zinc fell by more than eight per cent as financial markets dropped in response to inflation fears and rising interest rates, traders said.
Three-months copper closed the kerb at $US7,310, down 6.0 per cent against $US7,780/90 on Wednesday.
If the metals were to bounce back into positive terrain, it would have to be copper bringing the complex higher.
On Thursday, all bullish supply news was offset by a stronger US dollar, sending commodities and equities lower.
Gold fell three per cent and silver sank to its lowest in 10 weeks as the US dollar surged against the euro after an interest rate hike by the European Central Bank turned out to be lower than expected.