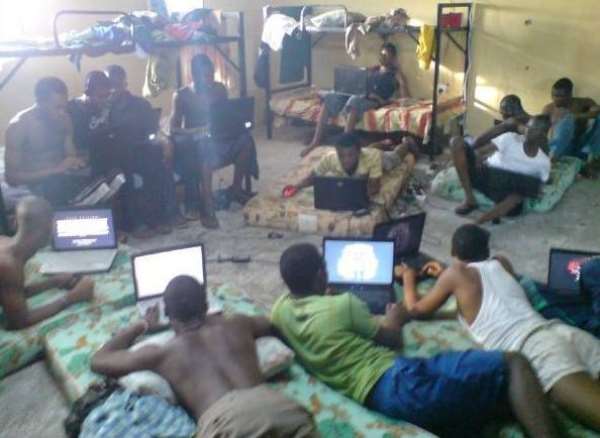 In our part of the world where hustling has been redefined to mean fraudulence – what we officially call scamming, it's very earnest for one to not allow himself to be peer-pressured into that act of deceit, in the name of wanting to hoard wealth. That way of amassing wealth is inarguably dubious, humanly and divinely unacceptable, and does not, in any way, give the true definition of what real hustling is. In fact, the two [scamming and hustling] are vastly different from each other.
Real hustling, in my own words, is the act of tasking one's self to jump over the hurdles and obstacles life may bring one's way, with an aim of wanting to make it big, by using means which are humanly acceptable.
In Zango, a Muslim community where I hail from, scamming is increasingly gaining a permanent sitting-stool – day in, day out. This is as a result of the incessant love the youth – males in particular – have developed for money, irrespective of where the money's source could be. The rate at which scamming, what I would describe as a social canker, is gaining the approval of the youth is quite worrying, in the sense that it is gradually becoming a norm in Zango.
Everyone, by virtue of being pressured by peers, wants to be rich; everyone wants to be a user of "Apple products", ranging from iPhones, iPads, Apple-watches, and Apple-laptops; everyone wants to ride in flashy cars, to gain the world's attention and recognition. However, the sources of the wherewithal to satiate these desires are not from acceptable means, but from scamming.
Boys, those my age and younger than I, sacrifice their night's sleep not for studies, nor for an act of worship, but for fraudulence. They spend useful hours on laptops to lure white men and women, those they call clients, into dashing them enormous sums of money to satisfy their urges for worldly gains. This is in no context a definition of hustle. Rather, it is deceptiveness at its apogee, frowned upon by society and discouraged by Islam – the religion we, the inhabitants of Zango, call our own. If truth be told, thinking that "To hustle" literally means "To scam" is wishful thinking.
The youth – those the elderly often refer to us future leaders who'll make Zango a better place for everyone to want to witness in the near future – are outliving their usefulness. They are substituting their bright futures to an immediate worldly gain, forgetting that the permanence of what they are craving for, now, is a slim possibility, whereas the brightness of their futures is worthwhile. It is better to hustle today and make it big tomorrow, than to scam today and make it less tomorrow. The choice is yours to make.
Unlike in the bygone days when one would not want society to know he's a scammer, these days, my dear brothers who trade in playing tricks on wealthy white men and women find so much pride in being called scammers. They do not hide their identities anymore. In fact, it's appearing that they are boastful of being scammers. Why won't they be boastful when society is making them appear as though they have made it in life? Why won't they be boastful when they have so many ladies in our Zangos to themselves, just because they are scammers? Why won't they be boastful when their peers call them names like block-holders and chairmen?
What makes the situation even murkier is the act of coupling their deceits with rituals, a means that will boost the amount of money they will make. Given the fact that we hail from Zango, in the hands of responsible parents, amidst individuals who are seen as Zango pearls, it doesn't speak good of us to resort to rituals in wanting to make money. More importantly, Islam frowns deeply at seeking riches from other deities except for Allah. That alone is enough to deter us.
My lovely brothers, before you think of continuing to scam people after reading this, kindly make this consideration: Assuming you end up being very rich in the future [something I pray you to achieve], with several dependents on you whose livelihood depends solely on the money you have. But, due to being scammed by someone whose identity is hidden from you, you lost your wealth, to an extent where you could not take care of your dependents anymore. Sincerely, how will you feel? I leave that question for you to answer for yourself, sincerely.
One may ask, what's Ezzideen's business, at all, with this issue of scamming? That's a good question and my answer lies in the fact that I am a member of Zango, and anything that has to do with the well-being of Zango is of paramount importance to me. Likewise, anything that has the potential of causing Zango to lose its firm pillars and fall off one day, I utterly frown upon it – and scamming happens to be one. Moreover, you are my brothers and I love you very much; what I wish for myself is what I wish for you, too.
I know very well that as youths, one of the things that emasculate us is the lack of money. So, we have to look for money – more money. But in our endeavours to look for money, it is quite reasonable to look for it through acceptable means. We will need the freedom of heart and mind to enjoy the money we fend for.
I will like to restate that hustling does not literally mean scamming. Let's hustle in the right way to make good money.
Mohammed Ezzideen Yakub.
Email address: [email protected]
UHAS: MEDICINE LEVEL 100