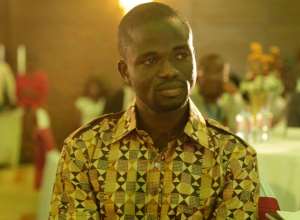 Manasseh Awuni
I know that he is morbidly obsessed with railroading Mr. Joseph Siaw Agyepong, CEO of the Jospong Group of Companies, parent company of the Zoomlion sanitation company. So, I would not waste any time belaboring this aspect of the article authored by the Mahama agitprop shill titled "Manasseh Azure's Open Letter to Attorney-General on Prosecution of Jospong" Ghanaweb.com 5/14/20). What is clear to me, however, is that most of the allegedly fraudulent fumigation exercises for which Zoomlion might have been illegally paid the Ghanaian taxpayer's money occurred under the obviously reckless and lackadaisical watch of Mr. Awuni's political hero and moral idol, namely, former President John Dramani Mahama.
If, indeed, as the critic and locally renowned sleuth claims, the fumigation no-show payments took place in the fiscal years spanning 2014, 2015, 2016 and 2017, then, of course, that was when the current National Chairman of the National Democratic Congress, Mr. Samuel Ofosu-Ampofo, was Minister for Local Government and Rural Development, and defecation on our shores and beaches was a national tourist attraction. As I vividly recall, it was Mr. Edwin Nii Lante Vanderpuye was Deputy Local Government and Rural Development Minister. It was, thus, the administrative climate and culture created by these two key NDC operatives and their overall boss, to wit, the Mahama Presidency, that determined how such contracts as the fumigation exercises under discussion here were negotiated and/or executed.
Attorney-General Gloria Akuffo has done more than enough chasing the Woyome Mega-Heist, a prime Mahama electioneering campaign plank and promise which President John Dramani Mahama could not fulfill in four-and-half years. If, indeed, Mr. Awuni is convinced that "such shady deals are still ongoing and the nation is losing money" by the millions, then, of course, it stands to reason that this is where Mr. Awuni ought to be focusing his investigative skills. You simply cannot expect the Attorney-General to be running all over the place dealing with problems created by the previous Mahama-led regime of the National Democratic Congress which, by the way, Mr. Awuni is very convinced did a much better job at running the country than the present Akufo-Addo-led government of the New Patriotic Party (NPP).
I also find it to be rather paradoxical for Mr. Awuni, who seems to think the Mahama Presidency was Ghana's Fourth Republican Golden Age, to be pestering and even harassing Attorney-General Akuffo to go after Mr. Siaw Agyepong. You see, what constitutes "overwhelming evidence" in the eyes of a self-infatuated crusading journalist may not necessarily stand the test of adequate prosecutorial evidence to handily nail Mr. Awuni's archnemesis. Nevertheless, if Mr. Awuni sincerely believes that even an average first-year law student could obtain a verdict against the Jospong Group of Companies, then the award-winning investigative journalist does not, after all, need the involvement of the Attorney-General to clinch the same.
*Visit my blog at: kwameokoampaahoofe.wordpress.com Ghanaffairs
By Kwame Okoampa-Ahoofe, Jr., PhD
English Department, SUNY-Nassau
Garden City, New York
May 14, 2020
E-mail: [email protected]