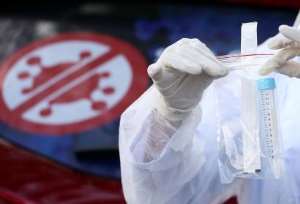 The Coronavirus (COVID-19) outbreak in Ghana, has shown the frailty of humanity and we thank God.
We equally thank God for Government's interventions to contain the virus and keep the public safe, especially calling on the Faith-Based community to pray while proclaiming a National Day of Fasting as a spiritual intervention in the fight against the virus.
God, through his infinite mercies had limited our fatalities; we have been holding on very well as an African nation as compared to Italy, France, Spain, United Kingdom and the United States of America.
However, we are not out of the woods as far as Coronavirus is concerned, my greatest concern is about the World Health Organization giving us a loan of US$1 billion, to fight the virus, we had only recorded six deaths at the time of the loan.
What are the terms and conditions for the loan?
How many years to pay it back and at what interest rate? Do we really need that extra burden on the country during an election year? Our National Debt between NDC and NPP is now at US$37 Billion, so much donations come in to the Covid-19 fund both in Ghana Cedis and US dollars.
How much has been collected so far? Could there be a running balance showing the donors and the amount that was given in cash or cheque for accountability?
The lifting of the partial lockdown has been lifted and for good reasons because we had ill prepared for the poor among us and did not take them fully into consideration, when the lockdown was put in place.
We have many very, very poor people who live daily by what little they are able to sell, keeping them at home may result in more deaths by hunger than the coronavirus.
Corona Virus diagnoses has replaced all our main sicknesses of fever, headache, cough, malaria even sneezing. Sneezing is a necessary part of living in Ghana because of the dust factor.
Too many untarred roads and the dust gets in your eyes, nostrils and of course you have to sneeze and that is also part of the Corona Virus diagnoses. Corona Virus has collateral damages for anyone who is sick today.
A friend of mine was taken to the Hospital for a heart condition, the doctors and nurses will not take care of her because they assumed she had Corona Virus and she was neglected of care until she died. I conducted the funeral services on 7th May 2020.
In the Presidents seventh speech to the nation addressing the lifting of the Lockdown, he focused more on Social Distancing, especially prohibiting, church attendance, mosques and political gatherings. Then the wearing of face masks was emphasized.
Thank God many Ghanaian manufacturers are producing the masks in large quantities and the government could have them produce more marks for everyone in the nation using some of the Covid-19 funds. So we will have no shortages in that at this time. But if I wear my mask to keep from spreading the virus, why then do I need social distancing?
My greatest fear is in a video that I watched on Social Media, where Mr. Bill Gates predicted that over 300,000 Africans will die with Corona Virus. He is not a prophet, so how could he know? How are we going to die? Is it a planned or calculated design to depopulate the Continent?
It is worrisome that the Chinese will skip the European Nations with their generosity and bring into Ghana during the lockdown, PPE, Masks and who knows what else was on the plane, to come to our aid? What do we need the aid for? Is it a bait or a blessing?
The Corona Virus has not been able to destroy us and therefore we will be dead by other means? Is there a vaccine in the package that is sent to us from China? Colonel Muammar Gaddafi said "They will create the viruses themselves and sell you the antidotes.
Thereafter, they will pretend to take time to find the solution when they already have it." I have also heard on the news that, the FDA is testing the items received from China to make sure they contained no Viruses. That means my thinking is in line with the government who is also not trusting the Chinese.
They should have refused the gift but since they accepted it but are worried about its reliability, I will strongly suggest that those items especially the masks and vaccine if there is any, be returned to the Chinese, because we have manufactured our own and have it in abundance.
Dispose of all the items that came on that airplane and let the whole world know that our God has delivered Ghana from the destructive powers of the Corona Virus and we need no help from any Nation in that regard. The only Nation that can help us is our own African Sister Nation Madagascar.
They have the cure. And it works. Neem tree, Pawpaw Leaves, Lemon, Ginger and garlic mixed and boiled. We have all these ingredients in Ghana. We have no excuse hiding behind high test numbers now.
I applaud His Excellency Nana Akuffo Addo, our brave outgoing President for all the steps he took to contain the virus especially going first to God with fasting and Prayer. That is in line with Matthew 6:33 which admonishes us to "But seek ye first the Kingdom of God, and His righteousness; and all these things shall be added unto you."
Our safety as a nation is not in the hands of the Chinese and for that matter in the hands of any other nation in the world. We are and remain unaligned. A sovereign Nation, a Republic free forever from foreign domination and exploitation, through fair or foul means.
We called on God on 25th March to shield us from the ravages of this virus and He answered our prayers. We need to show our gratitude to God as a Nation by declaring a national day of Thanksgiving and celebration. Lifting the bans of social distancing which disagrees with our culture and social life.
We need to go to our various worship houses and celebrate our God for His goodness and mercies towards us. In Hebrews 10:24, 25 the Lord our God commands us thus: "And let us consider one another to provoke unto love and to good works.
Not forsaking the assembling of ourselves together as the manner of some is; but exhorting one another; and so much the more, as ye see the day approaching" We have a situation where we are being obligated to choose between obeying man or obeying God. And the choice is clear.
We have a cure now, like any other disease, getting the cure ends the panic.
But we need to warn all our Chiefs and Queen mothers in the rural areas to be on alert for anyone who will come distributing any foreign mask or trying to give them a vaccine.
To be very vigilant and protect themselves and fight if they have to, not to allow anyone to use them us Guinea Pigs. We have a cure, let's go and get it, like other countries that love their citizens has done.
My appeal to His Excellency President Nana Addo Dankwa Akufo-Addo, our outgoing President is:
1. Please send a delegation to Madagascar with the money from the Covid Fund to get the medicine and first give it to the people in quarantine that we lose none of them.
2. Allow us to go to our various worship houses with our masks on and lift the ban on social distancing.
3. Make available to Parliament and therefore to the Ghanaian public, the terms of the US$ 1 Billion Covid-19 generous loan.
4. Give us a database showing the Name of Donors and how much was contributed to the Covid Fund. This is necessary since not all the donations were made at Jubilee House, some US$ donations were accepted by others at various locations.
5. Please allow our school children to go back to school with their masks on, and get some badly needed education if not the future of this nation will be doomed.
Pastor Dr. Divine Ayivor was the former Head Pastor of Prince Emmanuel Seventh-Day Adventist Church. He is also an Aspiring Flagbearer of the Convention People's Party for 2020.