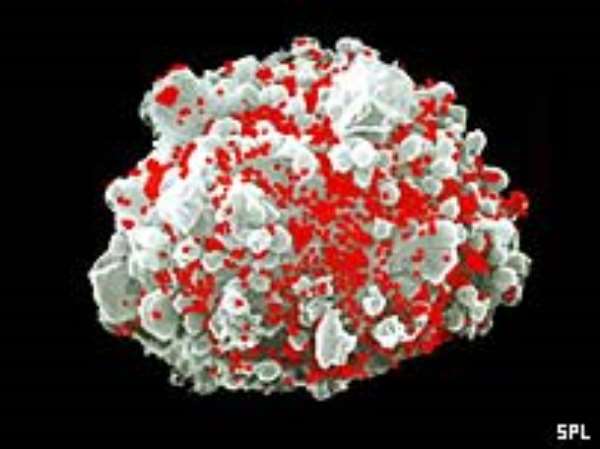 Scientists are developing a new way of tackling HIV, using a drug which blocks the assembly of virus cells.
US researchers, working with Panacos Pharmaceuticals which makes the drug, found it was effective in a small-scale human trial, New Scientist reports.
PA-457 will now be given in combination with other HIV drugs to people whose existing treatment is failing.
Experts said there was a lot of interest in PA-457, but warned it would not be available for some years.

There is a lot of interest in this product
Keith Alcorn, National Aids Manual (NAM)
The demand for new forms of medication is great.
About 80% of people being treated for HIV show resistance to one or more of their drugs, a spokesman for Panacos said.
There are several existing ways of tackling HIV.
Many medications work by blocking reverse transcriptase, an enzyme which enables HIV to replicate within a cell.
Others disable protease, which helps to assemble the virus into particles to infect other cells.
Shield 'disabled'
PA- 457, a derivative of betulinic acid, is a cheap by-product of the paper industry and one of a new class of drugs called maturation inhibitors.
It works by interfering with the production of the capsid protein, a conical "shield" which protects the genetic material of HIV inside it.
The research, also published in the Journal of Virology, showed PA-457 binds to the protein at a key stage of its development, meaning it forms instead into a "leaky sphere" which leaves the genetic material exposed.
Without its protective cone, HIV is defective and unable to infect other human cells.
Previous lab work on human cells infected with HIV by the University of Oklahoma and Panacos researchers has shown that PA-457 is effective on strains of the virus which are resistant to other anti-HIV drugs.
The small human trial of the drug last year reported that, given on its own, it rapidly clears most HIV from the blood.
New class
Further research, due to begin this month, will test how PA-457 works in combination with other drugs. Combination treatments are most effective because of the high levels of drug resistance seen in HIV treatment.
Forty-eight patients whose current treatment regimes are failing will either be given PA-457 or a dummy version along with their existing medication.
Even if results are positive, much larger studies will be needed to test the drug's effectiveness on more people and to see what combination of treatments works best.
It will be at least 2009 before the drug is on the market, the researchers warn.
HIV researcher Charles Boucher, of the University Hospital at Utrecht in the Netherlands, said: "It's a truly novel new class of drugs, and I really support their development.
"If [PA-457] turns out to be non-toxic, easy to use and not to select for resistance, it will find good use."
Keith Alcorn, senior editor at National Aids Manual (NAM), said: "This is a new class of drugs, and there is a lot of interest in this product.
"It stops the virus by interfering in one of the final stages in its assembly and stops it from 'budding out' from the wall of a cell."
He said much more research would be needed to show how safe and effective the drug was.