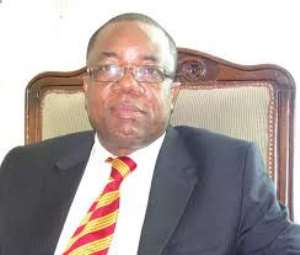 Frank Musah Dean
Liberia's Justice Minister, Frank Musah Dean, has recovered from the novel coronavirus, the local media reported in Liberia.
Reports say he has expressed gratitude to doctors who treated him for the virus.
According to report, he was released from the 14 Military Hospital in Monrovia, where he had been on treatment for the virus for 15 days.
Leaving the facility off the Robertsfield Highway Tuesday, Cllr. Dean paid homage to the doctors and nurses who helped him pull through a difficult period, reports local media outlet, FrontPage Africa.
He is quoted as saying
"I leave the 14 Military Hospital this morning after having been declared free of the deadly COVID-19 virus."
"I leave behind a team of trained, professional, dedicated selfless and above all, patriotic health workers. I wish to thank the doctors, who went beyond the call of duty, consistent with their Hippocratic Oath, to ensure the proper treatment and care for me. I wish to thank the nurses, the respiratory technicians, psychosocial therapists, support staff (janitors, caterers) and other technicians serving at the hospital, who so selflessly assisted in the course of my treatment and care. The team is doing such a wonderful job. They are miracle workers. I certainly cannot thank them enough."
Mr. Dean is one of Liberia's top government officials to have contracted the virus.
Information Minister, Lenn Eugene Nagbe was also diagnosed with the virus as well as Deputy Police Director, Sadatu Reeves.