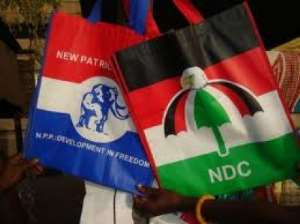 The National Democratic Congress and the New Patriotic Party have clashed in the Yapei-Kusawgu Constituency over relief items donated to the constituents to boost the fight against the Coronavirus pandemic in the area.
The NDC has accused the government of supporting the NPP parliamentary candidate Hon. Abu Kamara with relief items to boost his political slot to the neglect of others.
"....Government behind closed doors, handed over hundreds of COVID 19 items, such as Veronica buckets, hand sanitizers, liquid soaps, gloves, nose mask among others to one Abu Kamara, the NPP parliamentary candidate for YKC to distribute across the length and breadth of the constituency in order to score cheap political points."
They have also blamed the government for selective politics in the face of a pandemic that has sent 22 people to the grave:
"One would have thought that this is the best of time where the government will put the whole house together in order to champion a course of the unity of purpose, to contain this inimical pandemic, but to handpick Abu Kamara and equipped him with resources owned by taxpayers for his personal political gains is rather unfortunate. "
But a member of the NPP's Parliamentary Candidate Braimah Saliah has said such vilification by the opposition party cannot hold water and are just mere threats to scuttle the good works of the candidate.
A press release signed by the NDC constituency secretary Latif lddi Atingpo l insists that the government should to stay away from using taxpayers money to fund a political campaign of its members:
"We want to use this medium to send a strong warning to the government, to desist from such frivolous activity."
The constituency branch of the NDC further advised the government to make good use of the necessary mechanisms to ensure equitable distribution of the items to the rank and file of the constituency:
"What a responsible government should have done is to involve all stakeholders who matter in the fight against COVID 19 such as the Traditional Authorities, Zoomlion Ghana, Ghana Police, Ghana Arm Forces, Ghana Fire service, Ambulance service, political parties among others than pushing the agenda of the unwinnable parliamentary candidate, who lacks jurisdiction to do the distribution of items on behalf of Government for that matter Central Gonja District."
Meanwhile, the NPP Parliamentary candidate is said to be on his way back to Accra after distributing bags of sugar to the Muslim community in the constituency on Tuesday.