Farouk Aliu Mahama, NPP Northern Regional Secretary Hot Over False Donation Claim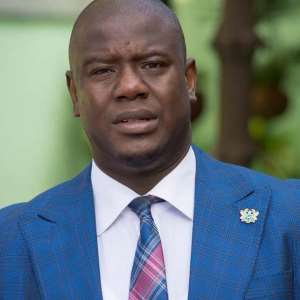 The Northern Regional Secretary of the New Patriotic Party (NPP) has come under fierce criticism over an alleged 'fictitious letter' issued to apparently project one of the three Parliamentary Aspirants in the Yendi Constituency, Alhaji Farouk Aliu Mahama over the others.
The letter dated 1st May, 2020 and signed by the party's Secretary, Alhaji Sibdow Alhassan Yakubu indicating a donation of over 1,000 bags of sugar and other food items by Alhaji Farouk Aliu Mahama has rather turned out to be a mere fabrication.
The donation is highly being contested and doubted by many party loyalists in the region. There are speculations that the NPP aspirant (Alhaji Farouk) in connivance with the Northern Regional Chairman of the party, Alhaji Mohammed Baatima A. Samba ordered the Regional Secretary, Alhaji Sibdow Alhassan Yakubu to issue that 'fictitious letter' of appreciation to Alhaji Farouk for no apparent reason. Meanwhile, there was an earlier "letter of appreciation" issued by the Northern Regional Communications Directorate to acknowledge a donation of six bags of sugar and four cartons of ideal milk by one of the aspirants in Yendi, Hajia Abibata Shanni Mahama Zakaria.
In a related development, Hajia Abibata also a Deputy CEO of MASLOC had already donated over 1,000 humpers to the NPP delegates, Muslim and Christian communities in the Yendi Constituency.
The letter issued by the NPP Northern Regional Secretary according to information gathered has since generated some controversies and also put Alhaji Farouk Aliu Mahama and Alhaji Sibdow under immense pressure to show a proof of the controversial 1,000 bags of sugar and other food items when questioned by NPP loyalists and youth groups in Tamale. it is said that a single bag of the supposed 1,000 bags of sugar is yet to be seen or received by any individual or group(s) within the party.
"We know Alhaji Farouk has been donating to people just like other aspirants do. But there has not been a single donation he made that was not publicized or brought to public attention. So how come he of all people didn't show the thousand bags of sugar to the cameras as usual or how come nobody witnessed the donation? We want to know where the sugar was presented, who received it and how it was distributed," these were some concerns raised by some NPP loyalists on social media.
Some of the youth on social media are demanding answers to the questions, raised. A section of the youth are also demanding the suspension of the Chairman and the Secretary if indeed they truly received those items and had kept them secretly, citing the recent suspension of some executives of the NDC in the region over similar conduct.
When contacted via WhatsApp message, Alhaji Farouk Aliu Mahama practically refused to respond as to whether or not he had made such a donation to the NPP Regional Executives, at what time, who received it and for what purpose. "Let them keep doubting". "Thanks for contacting me". "Have a good day", Alhaji Farouk replied.
The Northern Regional Secretary of the NPP, Alhaji Sibdow Alhassan Yakubu when contacted through phone refused to comment on the matter and rather requested a meeting with this reporter the next day in Accra. "Please I don't know you personally and I can't just speak to somebody I don't know. I am in Accra so if you like let's meet tomorrow morning then I can speak with you".
However, attempts to meet Alhaji Sibdow the next morning as agreed could not materialize as he failed to answer his calls.