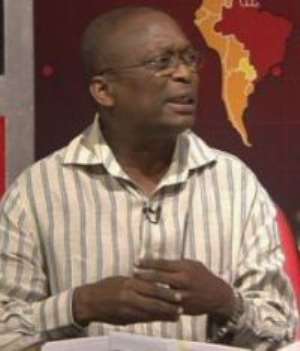 You see, the difference between the previous Mahama regime and the present Akufo-Addo-led government of the New Patriotic Party (NPP) is that whereas former President John Dramani Mahama brazenly defended the right of his staff, cabinet and executive appointees to wantonly molest and cavalierly maltreat Ghanaian journalists – on the latter count, such striking cases in point as that which involved the brutal mauling of the young Ghana Broadcasting Corporation (GBC) radio-broadcast reporter by Mahama Communications Director Mr. Stanislav Xoese Dogbe must be highlighted, as well as the fatally cavalier treatment of Jubilee House-attached journalists that led to the death of Mr. Samuel Nuamah, the Ghanaian Times' correspondent, and that editor of TV3 who was tragically and premature sent into his grave recently – under President Addo Dankwa Akufo-Addo, strenuous efforts have been made, whenever Akufo-Addo appointees have been fingered to have been involved in the maltreatment of media operatives, to smoothly and amicably resolve such administrative kinks and bumps that, obviously, put democratic governance in a pretty bad light, in particular the image and the reputation of the most free-speech-loving and respecting leader of Ghana's Fourth Republic.
Now, the preceding approach to governance and media relations is far more constructive and light years very different from the horrific climate that prevailed under the previous Mahama regime, where a portion of the passionately pro-National Democratic Congress' media was literally sicced on members of the Supreme Court of Ghana, including former Chief Justice GT Wood, who had been threatened with criminal sexual violation, properly speaking rape, only to have the Montie Trio criminal convicts and vanguard Mahama agitprop hacks rudely sprung out of prison by the cavalier use of Mr. Mahama's presidential or executive powers and privilege. This is what yours truly inescapably means when he describes the former Atta-Mills' Arch-Lieutenant as a "National Security Risk." You simply do not, and cannot, have this sort of state-engineered Executive Terrorism being practiced or studiously and doggedly pursued with impunity as the new governance normal under the Akufo-Addo-led government of the New Patriotic Party. This is the one salient distinction that the Editor-Publisher of the New Crusading Guide egregiously failed to point out and/or underscore.
You also cannot fault Candidate Mahama's so-called research team for the former President's patently false claim on World Press-Freedom Day that under his Dumsor-inflected watch, Ghana's Press-Freedom Ranking in Africa was much better than that of the Akufo-Addo-led government of the New Patriotic Party. Anybody who has either lived or studiously followed events on the ground, as it were, vis-à-vis official treatment of media operatives in Ghana must be fully aware of the incontrovertible fact that the reign of the National Democratic Congress (NDC), regardless of individual leadership profile, has always tended to witness the worst forms of treatment of key operatives of the Ghanaian media, especially bold and courageous private media operatives and practitioners. Nearly every media practitioner of any remarkable worth or significance in the country, including Mr. Kweku Baako, has spent some time in prison under a National Democratic Congress' regime. The same exact case cannot be equally and comparatively evenly be made for New Patriotic Party-sponsored administrations and governments.
Indeed, only a clinically or pathologically obtuse Ghanaian citizen would have failed to readily recognize the fact that Candidate Mahama was literally lying through his teeth, when he made the farcically outrageous claim that under his watch the Ghanaian media had been better protected than under the present Akufo-Addo Administration, or that, somehow, under the previous Mahama regime, Ghana had sported the best and most enviable record vis-à-vis the general treatment of Ghanaian media operatives (See "Don't Blame Mahama, He Was Misled – Kweku Baako on Press-Freedom Ranking" PeaceFM.com / Ghanaweb.com 5/8/20). One only needs to google up some of the comments made by both then Jubilee House-attached journalists and previously attached journalists in the wake of the clearly preventable road-accident death of Mr. Samuel Nuamah, the Ghanaian Times' correspondent, to reach precisely the same conclusions as mine.
It is far more likely that Candidate Mahama woefully underestimated the intelligence of the Ghanaian citizenry and the electorate by so cavalierly and disdainfully ignoring the advice and the facts and figures provided him by his research team, that is, if he really happens to have any, than any genuine mistakes having been necessarily made by the members of his research team. At any rate, whoever heard of the National Democratic Congress' really having a Research Team? Mr. Baako may be charitably confusing the NDC's Propaganda Machine Team of Animal Farm Communicators with a traditional or conventional Research Team. Rather funny and pathetic.
*Visit my blog at: kwameokoampaahoofe.wordpress.com Ghanaffairs
By Kwame Okoampa-Ahoofe, Jr., PhD
English Department, SUNY-Nassau
Garden City, New York
May 12, 2020
E-mail: [email protected]