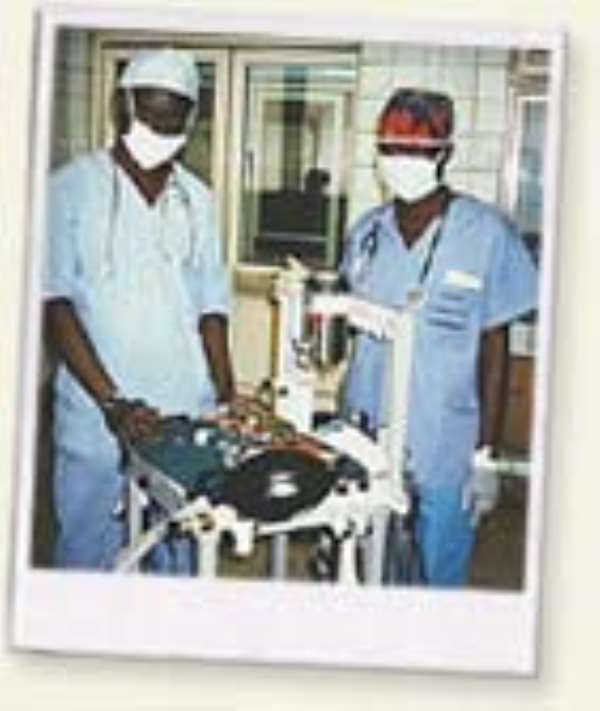 The Greater Accra Division of the Ghana Medical Association (GMA) has resolved to continue their industrial action until they are paid the new salaries and the corresponding arrears accruing to them since January this year.
At an emergency meeting held at the GMA House in Accra on Monday, the doctors voted by 170 to 28 votes to continue their strike.
They have also demanded that the house officers' salaries, which had been slashed be restored as was negotiated by the GMA negotiating team and the government.
The resolution to continue the strike was contained in a letter dated June 6, 2006, addressed to the General Secretary of the GMA and copied to all institutional heads in the division.
Meanwhile, the National Executive Council (NEC) of the GMA would hold an emergency council meeting on Thursday, June 8, 2006 to review the road map for the implementation of the new salary structure.
Explaining the rationale for the resolution, the Secretary of the Greater Accra Division, Dr Frank Owusu-Sekyere, said following promises and counter-promises by various government officials, the doctors felt that it was only the strike which would make the government keep to its word.
He said indications were that the earliest payment would be made at the end of June, this year.
"This, therefore, makes the GMA road map invalid hence the decision to continue with the industrial action," he explained.
Dr Owusu-Sekyere said members of the division were worried about the health of patients but were of the view that a hungry and worried doctor could not offer the best of care to a patient.
Moreover, he said, since patients were now suing doctors for negligence, it was better to adopt preventive measures to secure their own future.
"The incident is unfortunate. We thought about them and endured for five months but the other players are not fulfilling their part of the bargain," he said.
Dr Owusu-Sekyere said if there was anything that Ghanaians could do to let the government fulfil its part of the bargain, they should do so.
The President of the GMA, Dr Francis Adu-Ababio, said the constitution of the GMA allowed divisions to take certain decisions and actions without resort to the national executive.
He said it was only the NEC which could meet after collating the views of the other divisions before it could take action.
He explained that the result of this was an emergency meeting which was being called on June 8, 2006 to review the road map and collate the views of the other divisions for the GMA to take a position on the issue.
Dr Adu-Ababio said however unfortunate the strike by the Greater Accra Division was, he as an individual or president could not order them to call it off until the NEC met.