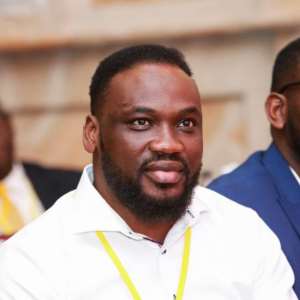 The founder and CEO of Salt Media Ghana Limited and Mayday Entertainment, Mr. Charles Kwame Frimpong, has donated some support to the grieving family of the late Kumawood actor, Bishop Nyarko, whilst using the opportunity to resound caution to the industry to reach out and help each other especially in these hard times.
"Bishop was an extraordinary talent. The news of his passing left me heartbroken," shared Kwame Frimpong.
Continuing his statement, Mr. Frimpong highlighted that "These are astronomically difficult times. The threat of COVID - 19 alone, is a loud and scary wake up call. We are all vulnerable. Jobs are being lost. Budgets and savings are drying up. As we all fight to stay alive, we in the Film, Music, Theatre, Media and Creative Arts spaces must also seriously rethink how we can collectively assist each other to thrive and survive. It is time to be intentional about our support for one another. Help your colleague in the industry however you can. Let us not wait to do this after they are gone. I am adamant that Salt Media Gh and Mayday Entertainment do their best to provide support to the very same industry players who have provided us with some of the greatest entertaining elements that keep us all going in good times and in bad."
Bishop Nyarko, born Bernard Kwame Nyarko, was a staple on the Kumawood movie scene. His natural talent and undoubtedly strong passion for the roles he played, were often the first and lasting impressions he left on anyone who had the pleasure of seeing any of his movies. Equally, in his ensuing chosen path as religious leader, Bishop, as many affectionately called him off and on camera, shared a similar passion and innate desire to use his voice and strong sentiment to draw more people to God almighty.