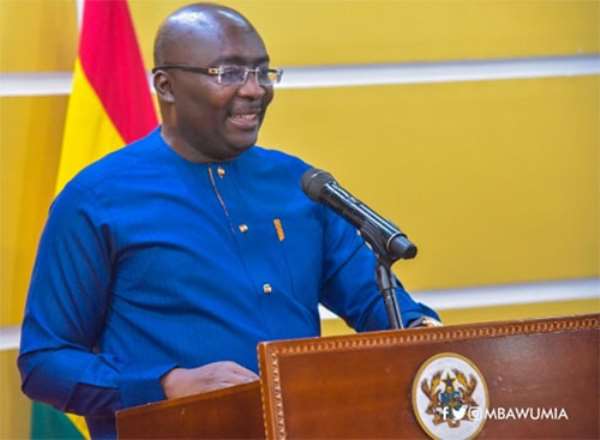 Alhaji Mahamudu Bawumia
"The good sense of the Ghanaian people, which has preserved the peace and stability of the 4th Republic for the last 27 years, will continue to prevail, and they will not permit any poor, desperate loser to plunge this country into chaos. Ghana is bigger than the ambitions of any of us." ‒ President Akufo-Addo
There is one name in this country that has attracted a lot of tongue-lashing from the folks under the eagle-headed Umbrella since 2016 till date. The said character is their nightmare. The mention of his name sends shivers down their spines. His economic analysis makes them look so ordinary that they've vowed to do all in their power to desecrate his name and make him look like a man of ill repute.
Yes, you've guessed right! The character in question is no other than the Vice-President, Dr. Mahamudu Bawumia.
Indeed, it is an open secret that Dr. Bawumia was a thorn in their flesh during the 2016 electioneering campaign. Dr. Tony Aidoo confirmed that fact soon after the election when he proclaimed that his party did not have an effective antidote to Dr. Bawumia's devastating economic punches. The beleaguered former Central Regional Chairman of the party, Allotey Jacobs, also made the same observation. He postulated that without a running mate who could stand toe-to-toe with Dr. Bawumia, the Umbrella better say goodbye to the presidential throne on December 7, 2020.
That the Umbrella is desperate for power is an understatement. Their aggressive attitude amply shows that their desire for power will make them do anything. The desperation for power has blinded their sense of patriotism and sound reasoning. Otherwise, why would they be playing politics with the deadly COVID-19 pandemic?
We all saw how their flagbearer, President Ogwanfunu, started a subtle political campaign with his live Facebook broadcasts that later turned into full blown political campaign. We all saw how he rode on the back of philanthropy (sharing food) and went campaigning when the whole country was struggling to fight the pandemic. The last straw was when he had the audacity to say the country's economy was on a ventilator.
You can trust Dr. Bawumia not to allow such a deceitful comment to pass without a reply. He will not allow an overused pot to call a fairly used kettle black, especially in an election year. His reply was only a punch, but it sent members of the Umbrella crushing to the ground. One week has elapsed and one can still see their puffy faces.
Dr. Bawumia's point was simple: The country has witnessed two crises, one under the reign of the Umbrella and the other under the reign of the Elephant. The country has thus seen the crisis management skills of both sides and could therefore make a better judgment. While the former increased electricity tariffs and cancelled nursing and teacher training allowances during a crisis, the latter is spending more to mitigate the effects of a crisis by providing free water, free electricity for lifeline users, 50% reduction for others, tax exemptions for all public sector health workers, 50% additional allowances for frontline workers and a GH¢600m stimulus packages for businesses!
A crisis could be anything. It could be energy crisis like 'dumsor' or public health crisis like COVID-19. A crisis could be internally generated like dumsor or externally generated like coronavirus. Both would have an impact on individuals and businesses. So what a government does to mitigate the effects on individuals and businesses proves its crisis management skills and the robustness of the economy.
Massa, how Zu-za tongue lashed Dr. Bawumia! As expected, they called him all manner of names. Reactions came from many sources ranging from regular Facebook junkies through rented journalists to professors lobbying for running mate slot for their brothers. Some even wrote what could pass for a thesis. But one thing was clear. None was able to mention even one mitigating factor by the Ogwanfunu government during the 'dumsor' period.
By the way, did you hear the self-styled neutrals and civil society organizations calling for de-escalation of politics after Dr. Bawumia's response? It is puzzling that people think some have the prerogative to throw jabs at the government but sees it as morally reprehensible when government responds. They preach palpable falsehood against the government for political expediency and you expect government to keep mute? That cannot be!
I will remind them if they've forgotten. This is 2020, the year of election. The sanctimonious effusions and pious lamentations must cease forthwith. They should rather tell the desperate former president to stop the politicking at this critical time or expect an uppercut in return from 'Walewale Adam Smith' if he dares to throw a jab.
Back to COVID-19 mode. We can now wear our face masks and go to the Veronica bucket to wash our hands.
Hope to see you next week for another interesting konkonsa, Deo volente!