Verdict due on Liberia war crimes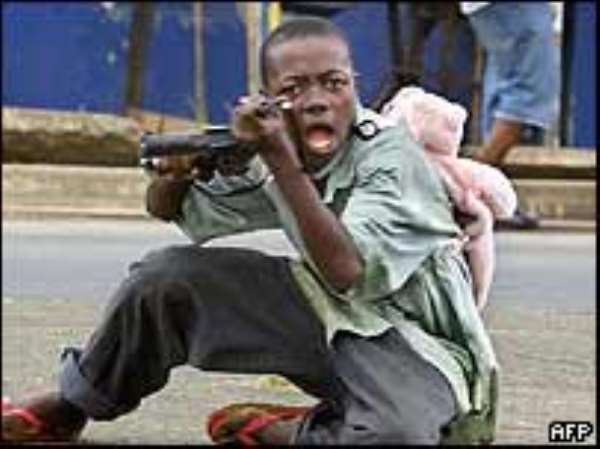 A Dutch court is due to deliver its verdict on a timber merchant charged with arms smuggling and war crimes during Liberia's civil war.
A militia employed by Guus van Kouwenhoven, 63, is accused of killing a group of civilians, including babies.
He allegedly broke a UN arms embargo by selling weapons to ex-President Charles Taylor. In return, Mr van Kouwenhoven allegedly received logging concessions.
He denies the charges and his lawyers say prosecution witnesses were paid.
The Dutchman is the first person to be charged with war crimes relating to Liberia's 14-year conflict, in which many atrocities were committed.
During the three-week trial, prosecutors demanded a 20-year prison sentence and a fine of 450,000 euros ($575,000; £310,000).
They want a fine because of the profits he allegedly made through his companies - the Royal Timber Company and Oriental Timber Corporation.
During Liberia's civil war, lobby group Global Witness successfully campaigned for UN sanctions to be imposed on the country's exports of "blood timber".
'Inner circle'
According to a UN report submitted to The Hague, Mr van Kouwenhoven, known in Liberia as "Mr Gus", formed part of Charles Taylor's "inner circle".
"Militias formed by the Dutchman's timber companies are alleged to have participated in massacres of civilians where even babies were not spared," a prosecution statement said.
"The weapons used by the militias to commit these war crimes are alleged to have been supplied by the Dutchman."
Charles Taylor launched a rebellion in Liberia in 1989, before eventually being elected president in 1997.
He soon faced accusations of diamond smuggling and arms dealing on behalf of rebels in neighbouring Sierra Leone.
From 1999 Liberia descended once more into civil war as rebels mounted a campaign to oust the president, who went into exile in 2003.
Mr Taylor was arrested earlier this year and may also end up on trial in The Hague.