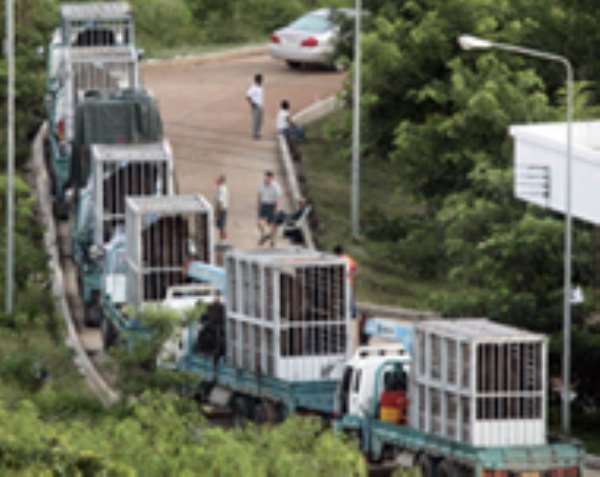 Animal rights activists in Thailand are blocking the transfer of eight elephants to zoos in Australia.
Dozens of people sat in front of the site's gate in the western province of Kanchanaburi as the eight elephants, in quarantine for 20 months, stood confined in 10-wheeler trucks.
A sign hanging outside the quarantine compound read Stop Exploiting Thai Elephants.
Soraida Salwala, founder of the group Friends of the Asian Elephant, said the protesters were concerned about the animals' welfare. They say the animals will suffer in the Australian zoos.
Soraida said she would withdraw if the elephants were put back in their stables and the Thai government discussed the issue with the activists.
"I don't want to see elephants in distress," she told The Associated Press by telephone. "They shouldn't have done this in the first place."
The elephants are being sent to Taronga Zoo, in Sydney, and Melbourne Zoo in the southern state of Victoria, as part of a captive breeding programme.
The Australian environment minister, Ian Campbell, said the breeding programme would help to ensure the survival of the species and protect the elephants from conflicts with Thai farmers and a shrinking natural habitat.
Campbell said that with fewer than 50,000 Asian elephants remaining in the wild, "every attempt must be made to ensure the survival of the species, including through captive breeding programmes."
The authorities had planned to fly the elephants to a temporary home in Australia's Cocos islands where they were to be quarantined for three months.
The transfer had been held up for more than a year as animal rights groups in both countries fought against it.