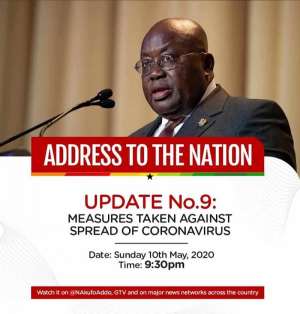 President Akufo-Addo will be addressing the nation tonight on measures against the novel Coronavirus.
This will be his 9th address to the nation.
It comes at the time the country is recording rising cases of COVID-19 which stands at 4,263.
The country went into a partial lockdown to stem the spread of the COVID-19 but got lifted after three weeks.
This prompted a barrage of attacks at President Akufo who was widely criticised for the 'premature' decision in lifting the partial lockdown when the country's cases were still rising.
The President explained that his decision was based on several factors backed by science.