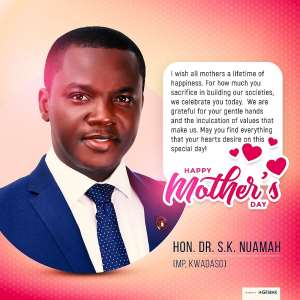 Today, May 10th,2020 Marks mother's day celebration, I wish all mother's in Kwadaso Constituency, Ghana, and the entire world a wonderful mother's day celebration.
Mothers, our wonderful gift of nature, your selfless being, love, immeasurable sacrifice, and general contribution in all spheres of our lives worth celebrated on this special day.
To all our, illustrious and industrious Mothers of Kwadaso Constituency and beyond, may the Almighty Lord continually bless you, grant you good health, and extend your days on earth.
Stay blessed beyond Measure.
HAPPY MOTHER'S DAY to you all!!!
Yours truly;
HON. DR SK NUAMAH
MP, KWADASO CONSTITUENCY
#GyeNyame