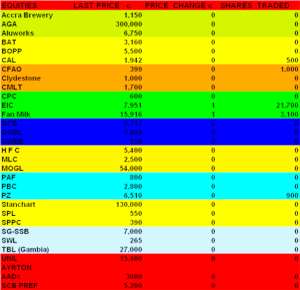 Gains by two equities pushed the index of the Ghana Stock Exchange up by 1.41 points at the close of trading session yesterday.
The gainers were British American Tobacco (BAT) and Enterprise Insurance (EIC). Each recorded a gain of ¢50. The year-to-date change stood at 1.60 per cent.
Trade volumes was very impressive as a result of bloc trades executed in CAL Bank. CAL Bank saw 865,100 of its shares being traded.
A total of 914,000 of shares changed hands at the close of the trading. Trading Date was June 5,2006.