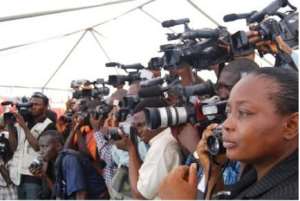 There are host of videos circulating on social media as result of the global pandemic. One which has drawn my attention in this little piece is the challenge that some Ghanaians have in pronouncing these new household words "hand sanitizer and the pandemic itself "coronavirus". In some videos going viral on social media by some television station, market women and other individuals are seen struggling to pronounce these words correctly "coronavirus and "hand sanitizer". For some of the excerpts regarding these words, for coronavirus, some include; "colosobilus" "colonialvirus", "columbiavirus" "balonia budget" golonia ballot" etc. For hand sanitizer, some include; "handsanitiger" "handsanisiser" "handsome charger". At personal level, maybe some of these mispronunciations of coronavirus and hand sanitizer may have healed people who maybe experiencing various forms of depression. These things should not be taken into the current immoral modern comics. Many of these comics add no value to human life.
In as much as comedies supplement the tragedies in life, these things have been taken for granted and they are being considered for fun. I know for a fact that entertainment production is key in the operations of the media. At this crucial moment, I think it is an opportunity to rather help them in pronouncing these words correctly. I know ay3taferem and nimokafui support my position on this issue.
If coronavirus had its origin in any ethnic setting in Ghana, it would have been easy for the natives to pronounce. As an Akan, Ewe, Ga can easily pronounce diseases and infections originating from their own environment. For instance "santweley, gyibaagyibaa, sasabro, manpele, 3twer3 etc. From the numerous videos, I have personally watched I cannot see any news reporter making conscious effort to assist people with the pronunciation of these words: "hand sanitizer and coronavirus". I know they have their own interest but it is a great shame and ignorance on the part of these media outlets in Ghana. The reason being that if we are unable to help them get the pronunciations right, in a decade to come, these people will still mispronounce these words "handsanitizer" and "coronavirus".
#Dedaez#
#A Citizen not a Spectator #