We Shall Surprise The World — Doya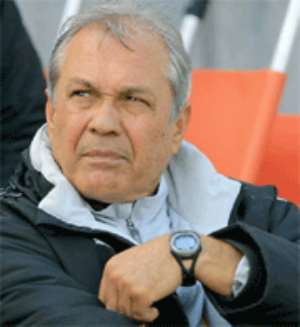 Three impressive results have buoyed the confidence of Serbian coach Ratomir Dujovic to serve warning that his team "will surprise everyone at the World Cup".
He insists that even though Italy are ranked favourites in Group E and Ghana considered the underdogs, the Azurris would "have to suffer to beat us".
While admitting the tough task on hand, the Serbian is looking beyond the group stage, insisting that their target is to reach the knockout stage.
"Our group is tough but we will do well to go past the group stage and that will be very satisfying," Dujkovic told the media last Sunday in Edinburgh.
In a state of despondency, at a time he was under intense criticism for his team's poor run of results, Dujkovic said his side was going to Germany as debutants just to enjoy the occasion.
However, his newfound confidence appear rooted in his side's turnaround in fortunes after three international friendly matches in which the Stars have won twice, scoring eight goals and conceding three.
"I am happy with the results against Turkey, Jamaica and Korea because we scored a lot of goals. Goal scoring was a problem in the past but now I have all my top players and goals do not appear to be a problem. At this moment everybody in the team is confident we will do well because we are improving match after match."
Last Sunday the Stars gave Ghanaians good reasons to be hopeful and believe in the team after putting up a wonderful display and cutting South Korea to size with a deserved 3-1 victory at the Easter Road Stadium in Edinburgh, home ground of Scottish premiership side Hibernian.
Not since Ghana's 2-0 victory over South Africa in Johannesburg last year have the Stars been so dominant that yesterday's international friendly against the 2002 World Cup semi-finalists left Ghanaian fans and head coach Dujkovic waxing lyrical about the team's chances at Germany 2006.
Dujkovic said he was particularly thrilled that the team scored and generally played very well against a very good side.
It was the perfect send-off for the Stars who left Edinburgh yesterday for their World Cup camping base of Wurzburg in Germany.
Striker Asamoah Gyan and midfielders Sulley Ali Muntari and Michael Essien stood out in the match after each scored a goal with Essien putting up a man-of the-match performance before an adoring crowd.
It was a kind of performance that should put to rest all doubts about Ghana's ability to rise to the big occasion in Germany, when they play Italy in the opening group game on June 12.
The Stars showed impressive courage as they turned on the afterburner midway into the second half and stripped the swift Koreans of all their terror.
Korea were expected to give the Ghanaians their toughest test yet and to the delight of the numerous Ghanaians, as well as Scotsmen who rallied behind the Stars,
Ghana came off the strongest in all departments of the game.
Ace defender Samuel Osei Kuffour was rested in place of Shilla Illiasu, who emerged a fitting replacement for the AS Roma star.
Kuffour's absence was hardly felt, as Illiasu proved a worthy substitute, bringing his towering presence to bear on Ghana's rear. He made good aerial clearance, effectively policing Korea's posterboy, Ahn Jung Hwan, and providing the striker little room to manoeuvre.
Moreover, together with John Mensah, he rendered Manchester United's Park-Sung Ji ineffective and provided a good buffer for goalkeeper Richard Kingston.
The Ghanaian defence looked solid and made few mistakes, except for occasional loose marking that exposed Kingston, but on the few occasions he was called to duty Kingston looked sharp and alert, scoring full marks, particularly in the 44th minute when the Turkey-based goalie saved Ghana from conceding an own goal when Essien, in an attempt to head out a dangerous cross, almost headed the ball into his own net but Kingston's timely intervention averted that disaster.
Unlike the friendly against Jamaica in which he scored two goals, Skipper Stephen Appiah failed to sparkle, but Essien took charge of affairs operating deep in midfield where he initiated attacks with incisive passes.
The Chelsea star was a class act as he stepped up his game in a very combative approach with passes and moves that were as dangerous as they were inspiring.
Ghana hardly settled into the game than the Koreans scored a beautiful equaliser that raised questions about the reflexes and concentration of substitute goalie Sammy Adjei who had been on the field for barely five minutes as a replacement for Kingston.
A quick attack by the Koreans saw the Stars retreating into defensive positions, but before they could take cover to deal with the Korean move, midfielder Lee Yong Eul fired a powerful 30-yard ground shot that beat the outstretched hands of Adjei.
The goalie looked distraught and shaken by the hoopla he nearly gave the Koreans another goal as he hesitated in clearing a harmless back pass to safety.
As Ghana restored the lead in the 63rd minute the goalie's confidence and concentration looked restored and made few costly mistakes.
Essien and Muntari began to run the show by the hour mark as the Koreans came under incessant attack and it was only a matter of time for their resilience to crumble.
A measured free kick by Essien inside the South Korean half was headed home by Muntari who leapt above his markers to connect a goal that restored Ghana's lead.
It took nearly 15 minutes for Ghana to begin to threaten the well-organised Korean defence with Essien coming closest to drawing first blood when Korea's goalie Lee Jae Woon managed to save a point-blank shot by the Chelsea star in the 16th minute.
The Koreans returned fire for fire and put Ghana under intense pressure in the 20th and 21st minutes as the Ghana defence occasionally failed to deal with the dangerous fast breaks by their opponents.
However, in the 36th minute Asamoah got Ghana ahead through a well-taken spot kick after a Korean defender handled a shot by enterprising wing-back John Paintsil who latched onto an Essien pass.
Appiah's sublime skills in midfield and Eric Addo's efficient 'holding' role gave Ghana's engine room the needed fluidity to push the Koreans on the backfoot.
However, as they were warming themselves into the game after recess when the Koreans scored a surprise equaliser five minutes into the second half.
It turned out to be the wake-up call the Stars needed to lift up their game and put the Korean defence under incessant attack but failed to utilise several scoring chances that came their way.