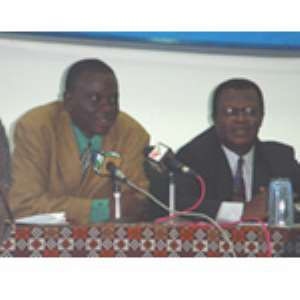 Mr Boniface Gambila, former Upper East Regional Minister, yesterday called on stakeholders of water resources to collaborate in their activities and consider the possibility of building a dam on White Volta at the Pwalugu area near Bolgatanga in the Upper East Region.
He said the area was a suitable site for a big irrigation dam that could give employment to the people and help alleviate the high poverty levels.
Mr Gambila, who was speaking at the inauguration of the White Basin Board, suggested that the Ministry of Water Resources, Works and Housing, the Water Resources Commission and other agencies interested in reducing poverty in the region study the area and determine the feasibility of putting up an irrigation project.
"It has served as a main source of drinking water for communities along the basin and for a long time as a source of irrigable water for farming."
"It is therefore necessary to make good use of the basin and the need for its proper use should be our collective responsibility", he said. He advised the Board to work closely with their counterparts in Burkina Faso since the river runs from there into Ghana.
Mr Mintah Aboagye, Director for Water, Ministry of Water Resources, Works and Housing who inaugurated the 15-member White Volta Basin Board, told the members that their task would not be over until true integrated water resources management of the White Volta Basin has been achieved.
The Board is expected to propose comprehensive plans for the conservation, development and utilization of water resources of the basin and would also initiate, implement and co-ordinate activities connected with the development of water resources of the basin.
It would assist in the process of registering water users and granting water rights, monitoring and evaluating programmes for the utilisation and management of the water resources of the basin, among other activities.
The Board is made up of representatives from the District Assemblies, Ministries and Agencies, House of Chiefs and Non-Governmental Organisations.