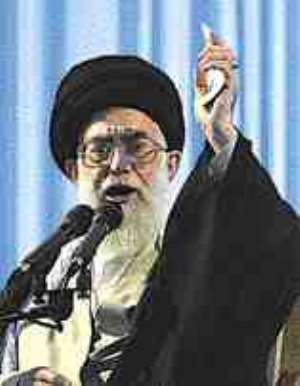 Oil prices rose Monday after Iran's supreme leader threatened over the weekend to disrupt global supplies if the West punishes Tehran over its nuclear program.
Several analysts said the market remains well-supplied and that there are signs that global demand growth is weakening.
"What I've been hearing from traders is that there is oil available in the market that is not being bought," said Ann-Louise Huttle, head oil analyst for Wood Mackenzie. "It's not as if it's a particularly tight market right now."
Instead, Huttle said the high prices and volatility stemmed from concerns about possible disruptions to the flow of oil around the world.
Over the weekend, Iran's supreme leader Ayatollah Ali Khamenei - who has the final say on all state matters - told Western nations in a speech Sunday that "If you make any mistake (punish or attack Iran), definitely shipment of energy from this region will be seriously jeopardized."
Khamenei said the United States and its allies would be unable to secure oil shipments passing out of the Persian Gulf through the strategic Strait of Hormuz to the Indian Ocean.
Other Iranian officials have repeatedly ruled out using oil as weapon.
Iran is the world's fourth-largest oil exporter and the second-largest producer in the Organization of Petroleum Exporting Countries.
Light sweet crude for July delivery rose 22 cents to $72.55 a barrel on the New York Mercantile Exchange. Gasoline futures declined by 1.5 cent to $2.1825 per gallon.
"The price surge is a knee-jerk reaction to the remarks made by Iran's supreme leader," said Victor Shum, energy analyst with Purvin & Gertz in Singapore.
Oil prices gained last week despite rising U.S. inventories combined with an expected decision by the Organization of Petroleum Exporting Countries to leave its output quotas steady at 28 million barrels a day. One contributing factor was the kidnapping of eight foreigners working on a rig off the coast of Nigeria. The workers were released Sunday. Still, the incident in Nigeria reminded traders that the nation's oil infrastructure is a potential target for militants.
"These geopolitical events support high prices in the near term," Shum said.
Saudi Arabia's Oil Minister Ali Naimi said in an interview with The Wall Street Journal that his country's crude output has declined in recent months, attributing it to a drop in demand. He denied the kingdom is trying to limit supply.
But a May market report produced by OPEC lists Saudi Arabia's April production as 9.4 million barrels per day, in line with previous months.
Citigroup oil analyst Timothy Evans said the comments made by Saudi Arabia were a "talking point designed to create doubts regarding supply in support of price."