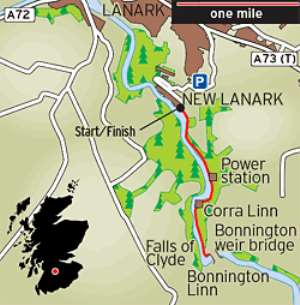 How to get there:
Follow signs to New Lanark World Heritage site. The reserve is situated two miles from Lanark. From Lanark, a local bus service runs hourly from the railway station to New Lanark.
Ordnance Survey reference:
Sheet 72 NS 882 423.
Distance:
Three-mile round trip.
Estimated Time to Walk:
Two hours.
Starting Point:
Falls of Clyde Visitor Centre, New Lanark.
The walk:
The Scottish Wildlife Trust's Falls of Clyde Visitor Centre, in New Lanark, overlooks Dundaff Linn, the first of three waterfalls on the reserve. A short walk takes you onto the Clyde Walkway along the river edge.
A little further along is the power station and the foot of the highest of the three waterfalls, Corra Llinn. This 27-metre cascade waterfall was immortalised by Wordsworth as 'The Clyde's most majestic daughter'. Ten minutes on, is the base for Operation Peregrine, a 24-hour security programme to protect the reserve's birds. Rangers are on hand at the public viewing area (allow 40 minutes to reach this point). The Clyde walkway continues up river to Bonnington Linn, a spectacular horseshoe shaped waterfall split by a small island (allow 50 minutes to reach here).
The walk ends at Bonnington weir bridge where you may glimpse our resident otters. Here you can either return to the village or cross the bridge to the west side of the river, where a further network of woodland walks can be found. (Please note the next bridge lies in Kirkfieldbank downstream and extends the walk to a six-mile round trip). On the way back to the village, listen out for warblers and tits in the ancient broadleaved woodland and also for signs of badger activity.
Useful information:
Pick up a map at the visitor centre . The reserve is open in daylight hours. A ranger service offers badger-watching, waterfall walks and summer events.