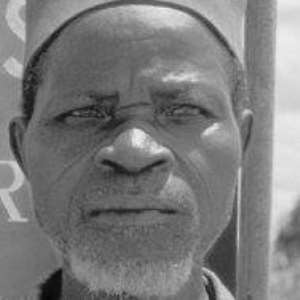 We gathered around Watchman and listened to his stories, during the evening.
Watchman was an "elderly" man who provided security for the local CMB-Cocoa shed, during night hours.
We called him watchman. His real name was not important for us.
Kwasi Bibiri was about 3 years old. He mispronounced Watchman's name as "Aneman" .
Watchman welcomed all the local kids to the cocoa-shed, during the evenings. We often spent our evening hours at the Cocoa shed, due to Watchman's warm personality.
Watchman frequently told us funny stories. He recounted his childhood stories while growing up in Northern Ghana.
He frequently, would describe the strange events he had witnessed deep in the night, at the Cocoa-shed to us. We believed all the stories he told us.
Watchman walked from his Zongo home every evening to work, on the other side of the town. He often passed through our house, in the morning after closing from work, to have a small chat with members of my household, on his way home.
A street-light brightly, illuminated the front yard of the Cocoa-shed.
The front yard served as playground for us in the evenings.
Watch man was wearing a beard which, he regularly trimmed.
The freshly trimmed beard hairs were prickly.
We enjoyed robbing the back of our hands on his prickly beard hairs. Watchman allowed us to touch his beard freely.
Any new kid who misbehaved or pulled hard on Watch-man's beard hairs, was promptly, rebuked by us
One evening, watchman mentioned to us, how two would-be-thieves attempted to enter the premise, the previous night. Watchman was ready for them.
The thieves backed-off when they saw Watch-man with his Bow and Arrow drawn.
We asked Watchman to show us his bow and arrow.
The Bow and Arrow were crafted from bamboo. Watchman always hid the bow and arrow from our view.
Watchman was originally, from Northern Ghana; he had mastered the use of a Bow and Arrow.
Among the childhood games which, we played at the Cocoa-shed were Hide-and-Seek, On-the-line, Ludo. We also told Anansi stories, and participated in Riddles.
The female children were often, involved with girls-play like, Ampe, and Asoh.
Watchman always talked about his son Ayoub who, I never met.
Decades later, as we recounted our childhood stories, my sister pointed to our neighbor Amina's husband, Ayoub, as the Watchman's son. Ayuob later confirmed that he is indeed, Watchman's son.
I had known Ayoub as a hospital worker at the Koforidua Regional hospital in the 1990's. I did not know that he my next-door neighbor, had been the Watchman's favorite son.
Watchman is long gone; memories of him from my early childhood, persist.
Watchman was not a rich person, but he made us feel good, and we felt comfortable around him.
People often remember how you made them feel, not what you did for them.