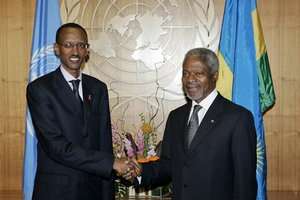 Eight highly indebted poor countries (HIPCs) in Africa have slid back to unsustainable levels of debt, according to a report by an independent evaluation group of the World Bank made available on Friday.
They are Burkina Faso, Ethiopia, Ghana, Mali, Mauritania, Rwanda, Tanzania and Uganda.
"The enhanced HIPC initiative cut the debt ratio in half for 18 countries, but in eight of the countries in Africa the ratios have come to exceed, once again, the HIPC thresholds," said the report.
Although debt relief had become "a significant vehicle" of resource transfer to countries under the World Bank-International Monetary Fund (IMF) HIPC programme, the report noted, "debt ratios have already again surpassed the bank's sustainability level of 150% debt-to-export ratio in the eight countries completing the programme".
Countries in HIPC undertake sustained implementation of integrated poverty reduction and economic reform programmes.
The bank said net transfers to HIPC more than doubled from $8,8bn to $17,5bn in a five-year period, from 1999 to 2004.
"These additional resources have increased budgetary flexibility for supporting social programmes, but changes in exchange rates as well as new borrowing have left programme graduates in the eight African countries with newly unsustainable levels of debt," it said.
The amount of debt reduction offered to low-income countries depended on the type of debt-sustainability approach used.
The HIPC programme was proposed by the World Bank and IMF, and agreed to by governments around the world in 1996.
The World Bank describes it as the first comprehensive approach to reduce the external debt of the world's poorest, most heavily indebted countries, and represents an important step in ending the cycle of poverty and debt.
An HIPC review in 1999 has resulted in a significant enhancement of the original framework.
Countries that qualify include the poorest states that are eligible only for highly concessional assistance from the International Development Association, the part of the World Bank that lends on highly concessional terms, and from the IMF's poverty reduction and growth facility.
States that face unsustainable debt even after the full application of traditional debt relief mechanisms qualify as well. Sapa-DPA, Business Day Reporter