Korea to Expand Aid to Ghana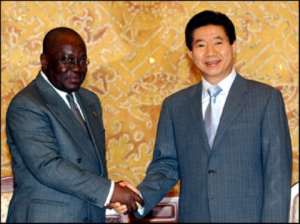 President Roh Moo-hyun said Monday South Korea is going to expand its grant and credit assistance to Ghana so the two countries could further promote cooperative ties, according to Chong Wa Dae.
While meeting Ghanaian Minister of Foreign Affairs Nana Akufo-Addo at the presidential office, Roh explained Seoul's ``Initiative for African Development,'' adding that Ghana could also be a beneficiary, presidential spokesman Jung Tae-ho said.
Roh first set forth the Initiative for African Development, summarized by the country's plan to triple its official development assistance (ODA) toward African nations in the coming three years, during his three-nation African trip last March.
Roh hoped Ghana could share the South Korean experience of rapid economic growth through various exchange programs of government officials as well as the expanded aid, Jung said in a press release.
Akufo-Addo, for his part, also hoped his country could learn the experience of economic development and asked for an increased investment of South Korean companies into the construction of infrastructure such as highways in Ghana.
Jung said Roh and Akufo-Addo also discussed the security situation on the Korean Peninsula and the minister expressed support for Seoul's efforts to resolve the North Korean nuclear issue through dialogue in the six-party talks.
The Ghanaian top diplomat's visit to Seoul follows a visit last month by United Nations Secretary General Kofi Annan, also from Ghana. He also met with Roh and Minister of Foreign Affairs and Trade Ban Ki-moon, who declared his bid to succeed the top U.N. post from Annan.
Meanwhile, Roh expressed his friendly feelings to the Ghanaian delegation yesterday, breaking the ice by talking about the warm-up match between the South Korean and Ghanaian national teams.
``Since the minister arrived here with a number of goals,'' he told his guest in a well-intended joke. ``Your national team did it very well last night, really.''
Both being World Cup qualifiers, South Korea and Ghana met in the final warm-up match at Easter Road Stadium in Edinburgh, Scotland, on Sunday. South Korea lost 3-1.
Akufo-Addo replied with a message from his president that he offers his condolences to the Korean people over the death of Lee Jong-wook, director general of the World Health Organization (WHO).
Jung said Roh invited Ghanaian President John Kufuor to South Korea at a convenient time and the two countries would discuss the visit through diplomatic channels in coming days. Akufo-Addo left for China later in the day.