Ghana to process 50% of her cocoa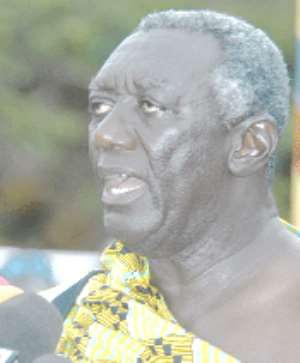 Ghana's president, John Kufuor has begun an arduous 16-day world tour with a pledge in London that within the next few years, 50 per cent of all locally produced cocoa will be processed in the country.
Addressing a Cocoa Dinner ahead of the annual conference of the International Cocoa Organisation at the weekend, the President announced that local processing of cocoa had already risen from 18 per cent over the last four years and a record jump in production from
340,000 metric tonnes to 734,000 metric tonnes over the same period.
He described the local processing of cocoa as "one of the measures we have put in place to ensure that, apart from providing job opportunities for our people, we will also ensure that we limit the dependence of the crop on the international commodity market".
He said undoubtedly cocoa had been the driving force in the socio-economic development of Ghana and its significance in the economy, therefore, was unmatched in terms of tax revenue, foreign exchange earning, employment generation and wealth creation.
"In a country of about 20 million people, I can confidently say that about one third of the people earn their livelihood directly or indirectly from cocoa, "President Kufuor said.
He urged the international cocoa community to forge a global partnership with governments of cocoa producing countries to seek the welfare of peasant cocoa farmers whose toil and efforts continue to sustain the industry.
That will not only build self confidence in the poor peasant cocoa farmer but, more important, ensure maximum growth of the industry, as well as help to attain the objectives of the Millennium Development Goals" the President said.
The conference is an international trade Organisation for the private sector representing all sections of the cocoa supply chain, such as the world's cocoa producers, chocolate manufacturers, cocoa processors, merchants, trade houses, warehouse keepers, insurers,
superintendents and other trade associations which meet annually to deliberate on the future of cocoa from the global perspective.
President Kufuor pledged that Ghana would do its part by continuing to endeavour to sustain the remarkable achievements, which the cocoa industry had registered over the years, especially during the last five years.