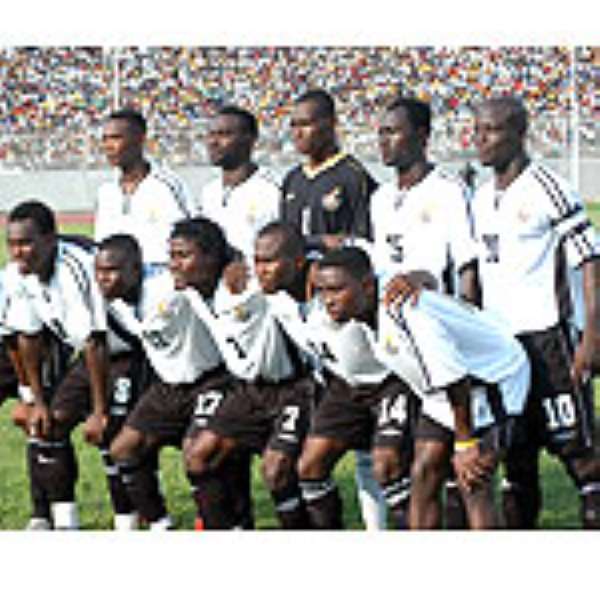 Ghana's Black Stars stunned South Korea with a 3-1 win in their last warm match ahead of the summer World Cup soccer fiesta in Germany.
The Koreans who were semi-finalist in the 2002 World Cup, for once failed to show-case their fluent non-stop running and exhibition of speed and stamina to do any damage to the Stars who were boosted with 4-1 victory over the Reggae Boyz of Jamaica at the Walkers` Stadium in Leicester, UK about a week ago.
The Stars matched their opponents for the greater part of the first half to crown it with the opener when a hard pressed Korean defender dived to propel an in-swinger with his hand right in the penalty box.
The referee who was nearer the spot whistled for a penalty and the Star's head striker, Asamoah Gyan shot into the net in the 38th minute for the first goal.
When the game resumed for the second half, it was the incensed Koreans who tried to change the pattern of the game by adopting fast breaks and this paid for them when they fetched the equaliser in the 50th minute with a long range shot that substitute Sammy Adjei failed to grasp to bring some relieve to the Koreans.
The Stars from then on continued with their game pattern with the midfielders made up of Michael Essien, Sulley Muntari and captain, Stephen Appiah surging forward to put pressure on the defence of the Koreans.
In the 62nd minute, Muntari out-jumped the defence men of the Koreans to nod home an in-swinger that the Korean keeper failed to grasp first time to bring the Stars back into the lead.
Just as the game was coasting to the end, the Stars made a threatening move into their opponents' goal area with Gyan laying a neat crisp cross unto the path of the midfield maestro, Essien to beat the Korean keeper with a low grounder to bring the scores to 3-1.
The third goal seemed to kill the fighting spirit of the Koreans as they failed to keep their passes together allowing the Stars to dictate the pace of the game till the final whistle.