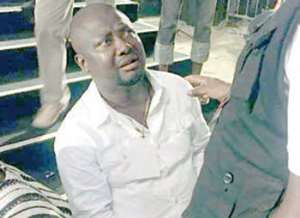 He cannot spell "career," as in teaching or political career; he keeps repeating the word "carrier," as in a carrier of COVID-19, throughout his barely coherent article captioned "I Weep for the Veep." He also cannot differentiate between "bare" and "bear," and yet Kojo Adu-Asare rather pathetically presumes that the former National Democratic Congress' Member of Parliament for Adentan Constituency, near Legon, in the Greater-Accra-Region, if memory serves yours truly accurately, could take on a formidable world-class technocrat like Vice-President Mahamudu Bawumia, the former Deputy-Governor of our beloved nation's Central Treasury, to wit, the Bank of Ghana, during the Golden-Age tenure of Dr. Paul Acquah, when the landmark High Street establishment was a brain trust fiscal establishment to reckon with.
Rather than risibly pretend to take on Alhaji Bawumia, I would kindly admonish Mr. Adu-Asare to quickly take advantage of President Addo Dankwa Akufo-Addo's fee-free Senior High School System to both learn to write and think more clearly. You see, this mess of embarrassment strikingly represents the typical profile of a "Presidential Staffer" under the four-and-half-year tenure of Mr. John Dramani Mahama, the hopelessly incompetent hatchet man of the late President John Evans Atta-Mills, who, nearly 8 years later, has yet to be able to look Ghanaian citizens and voters straight in the eye and tell us precisely what curious set of circumstances led to the "auspicious death" of President Atta-Mills, in the at once stunning and suspicious words of the Bole-Bamboi native, let alone devise any creative and constructive method of definitively resolving the Dagbon Chieftaincy Crisis.
That was how administratively hopeless the scandalously incompetent the John Dramani Mahama-led regime of the National Democratic Congress (NDC) was. You see, Candidate Mahama has this rather farcical idea of governance which says that he has an inalienable right to squander half of the fiscal resources of all our national development projects and leave them half-completed so that his far more competent successor would come and complete the same, after which this habitually nose-thumbing clown would beggarly plead his way back into the very adult seat of governance from which he was seismically ejected in 2016, and nonchalantly continue his kleptocratic way, once again, with brownnosing lickspittles like Mr. Adu-Asare.
For those of our readers who may have so soon forgotten about Kojo Adu-Asare, this SOB was the director of a small government agency who had to be booted out of his post because, like Candidate Mahama, Mr. Adu-Asare had absolutely no clue in managing the 2-by-4 sinecure afforded him by Little Dramani. The Bawumia critic also has absolutely no professional or moral credibility; so, I really don't know why he thinks he can casually take on the Northeastern Tiger of Mamprugu. Playing the Intra-Northern Tribal Political Game would also not gel or work here because unlike Little Dramani, Alhaji Bawumia plays well over and above the petty-minded politics of tribalism which, by the way, is the staple political diet of Candidate Mahama.
We must also clearly sound out to ethno-tribal baiters like Mr. Adu-Asare that cheaply and jejunely attempting to tactically and/or strategically alienate Dr. Bawumia from the ruling New Patriotic Party, by playing Ghana's Vice-President against his Akan-descended party and political associates, as one former Akufo-Addo protégé turned "diplomatic" mercenary and Mahama media attack dog shamelessly tried to do recently, will not work. You see, we have been down this slippery slope before, when we had far less grips and clout on our national political terrain, and it is even more highly unlikely to work this time around, when we are firmly in control of our political destiny and our national affairs. You see, the kind and brand of politics practiced by Team Akufo-Addo has absolutely no rival or comparison in Ghana; it is cosmopolitan, world-class politics. The Mahama Posse is ages behind us.
You see, I thought that Mr. Adu-Asare would respond to such Mahama Grand Theft/Larceny as the European Airbus SE and AKSA Energy Payola Scam-Artistry. Instead, we had this irreparably failed political scam-artist wading into issues that he had absolutely no clues about. Politicians who could not protect Ghanaians against such basic and common epidemic as Cholera should size themselves up first, and not cavalierly presume to be equal to the herculean task of fighting off a Global Pandemic like COVID-19. Likewise, a leader or, rather a "misleader," who could not distribute such cheap and common household items as lanterns, flash lights (or torchlights), let alone batteries and mini-power generators during the four-and-half years of Dumsor that Candidate Mahama callously visited on Ghanaians, ought not to be bragging about distributing facial masks and suits donated by some charitable organizations abroad in this apocalyptic season and crisis of the COVID-19 Pandemic.
You see, under the socially responsible watch of President Akufo-Addo, Ghana has jumped the industrial and socioeconomic development ladder ages ahead of nearly every country on the African Continent, by kickstarting the revolutionary production of PPEs right here on Ghanaian soil, even as industrial powerhouses like Donald Trump's America wait on the Chinese to manufacture and deliver the same, while scandalously clueless Mahama lackeys like Mr. Adu-Asare foolishly brag about his payola-prone paymaster's importation of PPEs from Europe and the United States. Clearly, Candidate Mahama is absolutely no match for or the political coequal of President Akufo-Addo, not by any credible and globally acceptable measure or standard.
*Visit my blog at: kwameokoampaahoofe.wordpress.com Ghanaffairs
By Kwame Okoampa-Ahoofe, Jr., PhD
English Department, SUNY-Nassau
Garden City, New York
May 6, 2020
E-mail: [email protected]