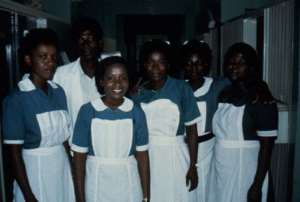 First National Vice-President of the Ghana Registered Nurses' Association (GRNSA), Richard Kwasi Henneh, has said Ghana has about 13,000 nurses out of the required 40,000.
He said the quality of nursing care in general had been undermined by inadequate nurses as a result of their departure to seek greener pastures elsewhere.
Mr Henneh was speaking at the inauguration of the Kwame Nkrumah University of Science and Technology (KNUST) Nursing Students' Association in Kumasi on Saturday.
The inauguration was under the theme, "Quality Health Care Delivery in Ghana, The Role of the Undergraduate Nurse".
Mr Henneh said the rate of the departure of nurses had increased from 1,187 in 2000 to 2,503 in 2004.
Dr Kofi Asare, the Ashanti Regional Director of Health Services, said the nursing profession was changing and there was the need for students to study hard to be able to march with the changing trends.
He called on the executives of the association to offer good leadership examples for members to emulate at all levels of the course and in service delivery.
Mr Mumuni Hadiru Iddris, President of the association, appealed to the university to provide transport and accommodation for students.