Kufuor Speaks for the Peasant Cocoa Farmer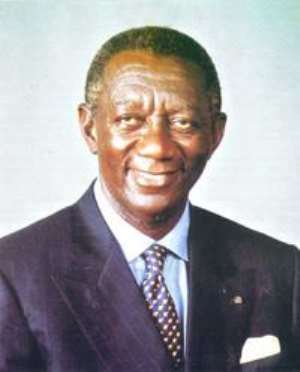 London, UK -- Ghana's President, John Agyekum Kufuor, guest speaker at The Federation of Cocoa Commerce's (FCC) 75th London Cocoa Dinner has asked major traders of the commodity, manufacturers and governments of producing countries not to overlook the moral issue of the plight of peasant farmers whose daily activities underpin the fortunes of the cocoa industry.
He told the huge gathering of cocoa players at London's Grosvenor House on Friday that: ' We must not forget that the under-pining individual in the cocoa industry is the average farmer, who in Ghana, is a peasant. If we make him happy the industry will be buoyantly sustained.'
With the global increasing demand of cocoa, the moral necessity should translate into higher and stable earnings thereby reducing poverty in producer countries, according to President Kufuor.
Ghana, he said, has taken the moral issue seriously as reflected in policy implementation in the last five years. It resulted in payment of remunerative producer prices which increased steadily from 40% in 2001 to the current 72% of the world market price; improved payment of annual bonuses to farmers, vigorous pursuit of a nation-wide pests and disease control programme and assistance given to farmers by government to spray farms, apply fertilizers and improved planting materials.
The resultant high productivity yield did not compromise, in the words of President Kufuor, Ghana's policy against child labour. With a Free and Compulsory Universal Basic Education policy in Ghana, all children below the age of sixteen have enough incentives to be in school and not as labour tools. The policy has not only helped school enrollment by 16% more but, 'become an offence to keep any under-aged child out of school, to be put to work. I want to assure all stakeholders of this industry that my government will not permit the future of any Ghanaian child, which indeed constitutes the future of our nation, to be jeopardized through any form of child labour, not only within the cocoa industry but also anywhere else in Ghana.'
As President Kufuor acknowledged applause for this, he also gave hope of Ghana adding value to the crop, 30% of which is locally processed (from the 18% before his assumption of office). It is not desirable though compared to government's target of 50% within the next few years, he explained. Target fulfillment would benefit the economy and more importantly, reduce the dependence on the fickle international commodity market.
President Kufuor who was led to the FCC's dinner night by out-going Ghana's High Commissioner to the United Kingdom and Chief Executive Officer of Ghana Cocoboad, His Excellency Isaac Osei also commended the organization for its Sustainable Tree Crop Programme for smallholder farmers .
On a pilot basis, it has increased productivity and incomes while conserving biodiversity in three districts in the Ashanti Region. It would with time, be implemented in other regions of the country.
The dinner was also a transition for cocoa affairs guru and FCC's chairman, Alan Cook, who retired from the industry after decades of devoted service. The new FCC's chairman is Paul Davis.
The SOS Children's Village at Asiakwa in Ghana would be beneficiary of a well patronized raffle.