Kidnappings in Nigeria trigger $2-a-barrel rise on oil futures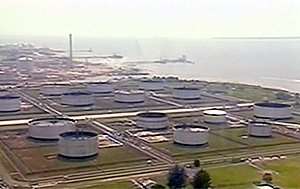 WASHINGTON — Oil prices jumped by almost $2 a barrel Friday after it was reported that eight foreigners working on a drilling rig off the coast of Nigeria had been kidnapped. Even though no output was affected, the news reignited concerns about the stability of supplies in the oil-rich African nation.
Analysts said anxiety over Iran's nuclear ambitions also supported crude futures. U.S. data showing gasoline demand on the rise at the start of the summer driving season and a refinery snag in Texas underpinned a rally in gasoline futures.
Light sweet crude for July delivery rose $1.99 to settle at $72.33 a barrel on the New York Mercantile Exchange, where gasoline futures gained more than 7 cents to close at $2.1975 a gallon.
Analysts downplayed Friday's rally, saying trading volume wasn't especially heavy.
"It was a typical pre-weekend rally in oil," said Mike Guido, director of commodity strategy in New York for bank Societe Generale.
The kidnapped workers, six British, one American and one Canadian, were aboard the drilling rig Bulford Dolphin when it was attacked during the night, Olsen Energy ASA, the rig's Norwegian owner, said in a news release.
The company said Nigerian and other authorities were working to resolve the situation, and drilling from the rig has been suspended.
Nigerian militants have blown up oil pipelines and kidnapped foreign oil workers to press their demands for local control of oil revenue by inhabitants of the oil-producing south, who feel cheated out of the wealth produced in their backyards.
The violence in Nigeria has led to the shut-in of more than 500,000 barrels per day, though new production in other areas has offset much of that loss, analysts say.