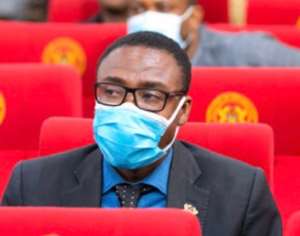 Dr. Aboagye Dacosta
The Director of Health Promotions at the Ghana Health Service, Dr. Aboagye DaCosta, has cautioned that wearing of nose mask should not be seen as substitute for other preventive measures but rather, an addition. He made this known at the regular press briefing at the Ministry of Information, Accra on Tuesday, 5 May, 2020.
Speaking on the guidelines put in place by the Government to guide the usage of nose mask in the country, Dr. Aboagye DaCosta mentioned that "wearing of the mask is not to replace the preventive measures or the social distancing. It is actually to support it. So it means that we are to wear the mask, observe the social distancing and also follow the preventive etiquette like washing of hands with soap and under running water, when sneezing and coughing, you use tissue to cover your mouth and dispose it in a bin and cover it appropriately."
In the wake of the outbreak of the novel coronavirus in the country, Government has intensified public education on the wearing of nose mask especially in public spaces along with other preventive measures. This decision forms part of Government's effort to curb the spread of the virus in the country.
However, speaking on the benefits of wearing masks, Dr. Dacosta noted that "using of nose mask can slow the spread of the virus. The mask protect us all since there may be people in the community with the virus who are not showing any signs. The mask also helps to reduce stigma because we are all wearing the mask so there is nothing like segregation and discrimination."
Dr. Aboagye Dacosta also encouraged the vast majority of Ghanaians and businesses to stick to the mandatory wearing of nose masks particularly in public spaces.
"All persons in public and commercial centers, facilities and buildings will all have to wear a mask. All frontline media staff and people visiting media premises including reporters in confined offices or studios will have to wear a mask. All commercial vehicle drivers and attendants, all forms of public transports including public transport operators and passengers have to wear mask as well as observe social distancing" he added