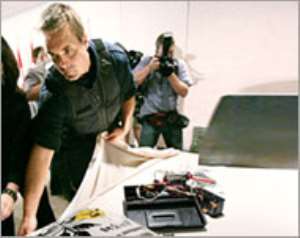 Seventeen people have been arrested by Canadian police in Toronto for terrorism-related offences and could face charges of plotting al-Qaeda-inspired attacks.
Mike McDonnell, assistant commissioner of the Royal Canadian Mounted Police (RMCP), said on Saturday that a group of 12 adults and five younger people that were arrested on Friday "were planning to commit a series of terrorist attacks against solely Canadian targets in southern Ontario".
The group is alleged to have acquired three tonnes of ammonium nitrate, commonly found in fertiliser, and "components necessary to create explosive devices."
Police said the individuals were arrested in co-ordinated raids throughout the wider Toronto area.
"This group posed a real and serious threat," McDonnell said.
"It had the capacity and intent to carry out attacks. Our investigation and arrests prevented the assembly of any bombs and the attacks being carried out."
Painstaking probe
McDonnell said the painstaking investigation that led to the arrests had involved around 400 police and security experts.
"The men arrested yesterday are Canadian residents from a variety of backgrounds. For various reasons they appeared to have become adherents of a violent ideology inspired by al-Qaeda," said Luc Portelance, assistant director of operations for the Canadian Security Intelligence Service (CSIS).
The group had no formal links to Osama bin Laden's al-Qaeda network, he added.
The 17 accused have been charged with participating in a terrorist group's activities; training and recruitment for the group; firearms and explosives offences; and contributing money or property for terrorist purposes.
Police exhibited items seized from a camp at an undisclosed location in Ontario purportedly used in training for forthcoming attacks, including flash lights, computers, and walkie talkies.
Local reports suggested the group had videotaped the CN Tower, one of the world's tallest structures, and the local subway, which carries some 800,000 commuters each day, but officials refused to specify the intended targets.
Group monitored
According to reports, CSIS had monitored the group since 2004 and the RCMP launched an investigation last year.
The accused were now being held at a police station in Pickering, a suburb of Toronto, and were expected to appear in court later on Saturday, officials said.
Canada's intelligence service admitted earlier this week it couldn not track down numerous domestic terror suspects and warned the country faced an increasing threat from "home-grown terrorists".
Jack Hooper, the deputy director of operations at the Canadian Security Intelligence Service, said the service was trying to keep track of "350 high-level targets" as well as 50 to 60 organisations thought to be linked to groups such as al-Qaeda.