To Beat Covid-19, We Must Change Our Way Of Life — Heath Minister To Ghanaians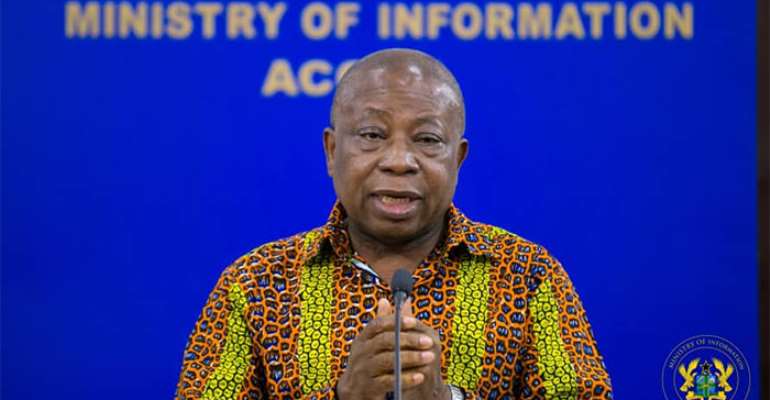 Minister of Health, Kwaku Agyeman-Manu, has urged Ghanaians to change the way they observe the safety protocols towards the fight against Coronavirus pandemic in the country.
According to the Minister, Covid-19 has come to stay with us and therefore Ghanaians must also change their lifestyle to accommodate the new normal.
"The president has asked us to stay home if we do not have anything important to do in town, let's obey this order," he said.
The Minister was speaking in Accra during a press briefing by the Ministry of Infirmation, today.
While commending organizations for adhering to the social distancing protocols, Mr Agyeman-Manu rebuked those who are flouting the order.
"Don't let us get out and gathering together unnecessarily, "he added.
He said hand washing frequently with soap under running water should also be the new normal if we are to win the Covid-19 fight.
"Again, I am advising us to adhere to the protocols, " he said.
He also urged the public to cough into tissue papers and discard it immediately.
"The scientists are telling us to stop touching our nose and face, so if you can at all don't put your hand on your face even if it is itching.
We have to do certain things in a different manner because the virus will stay with us for some time, " he added.
He said objects and door knobs in homes and offices or public places should be disinfected after use.
"What has become critical and mandatory is the wearing of masks, " he added.
He said although the country started with the importation of masks, Ghanaians through their ingenuity are now producing it in large quantities.
"I am pleading with companies, churches and individuals to buy the mask and share to those who cannot afford to buy so we can all be in the mask. Again, these are going to be a new way of life for us. If we cannot do this we are not going to cut the rate of infection," he said.
---Daily Guide