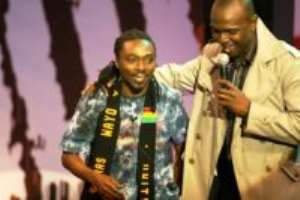 The continent's most successful reality show, M-Net's Big Brother , blasted off with the biggest-ever twist in BBA history last night (Sunday 6 September) on DStv Channel 198/199 as the first 12 contestants on Big Brother Revolution were revealed to be all male! This is just the first in a series of revolutionary twists in what promises to be the most entertaining 91 days in African television history.
Viewers knew in advance that this was set to be the biggest season of Big Brother Africa yet, with the largest-ever African reality show cash prize (USD200 000) on offer, an anything-goes policy which allows the housemates to conspire as much as they like and a hot new presenter, Nigeria's IK Osakioduwa – but nothing had prepared the continent for an all-male cast of housemates! An important part of this season's revolution is that viewers will vote to keep their favourite housemate in the game, whereas they previously voted for the contestant they would like to see evicted.
This season's show promises an unprecedented dose of Big Brother magic – and if the first show is anything to go by, viewers are in for a season of action, drama and non-stop entertainment.  Apart from 12 male housemates, Big Brother Revolution also features a pair of identical twins who will play the game in turns, a quick-fire nomination within the first 24 hours and news that a group of female housemates will join the boys in the house next week – something the boys don't know yet!
The show kicked off with a special 2-hour pre-show at 17:00 CAT, featuring a set of "Starmates" – celebrity Big Brother contestants who will spend the first 24 hours in the house with the 12 housemates. Nigerian movie star Tuvi James was first in for a chat with IK, followed by Channel O star Nonhle Thema, Tanzanian actor Steven Kanumba and South Africa's 'it-girl' Khanyi Mbau.
They spent 2 hours exploring the house, choosing their beds, sharing some initial thoughts with Big Brother in the diary room before receiving their first task – preparing a welcome feast for the 12 new housemates. They also noticed that Big Brother's voice is distinctly female this time around – is this a sign of things to come for the all-male house?
Then it was time to get down to serious business – the main show kicked off at 19:00 CAT with host IK jetting in to the new BB studio in a helicopter. The audience's attention was then pricked as they saw 12 helmeted strangers jumping on the back of motorcycles and racing to the Big Brother house – at this point the continent was surely not expecting all of the housemates to be male!
Meanwhile the studio audience nearly ripped the roof off the live show venue when IK introduced Somalian musical superstar K'Naan, who performed his worldwide hit "Wavin Flag" as the massive crowd sang along.
 
IK then gave the continent a glimpse of what former Big Brother Africa winners had been up to. First up was BBA2 winner Richard from Tanzania. He had promised to open a film company – and stayed true to his word! He took viewers on a tour of his new offices and explained how he had welcomed his first child into the world. He told viewers that he hadn't stayed in touch with any of his housemates, apart from Code. His advice to the Big Brother Revolution contestants was "Stop being fake – be yourselves – and let the games begin!"
Next up was Angola's Ricco, last season's winner.  Ricco has been living in Brazil for the last 6 months while he studies a television presenting course. He misses Africa and is currently dating – and he promises to introduce the lucky lady to the continent soon. His advice to the new housemates is "Good luck, break a leg, have fun and enjoy it – and don't forget to entertain the audience!" 
Big Brother Africa 1 winner, Zambia's Cherise, is married and living in London. She hasn't forgotten her roots, though, as she continues to run a host of charitable projects back home, including an educational park. She says that winning Big Brother Africa changed her life: "When I won I was just a simple girl from a small town in Zambia – I'd never been on a plane before! The day after I won I met Nelson Mandela, then I was hosted by my own President in Zambia," she says. "I flew around like crazy, living out of a suitcase for months and visiting places I'd never imagined." Her advice to the housemates was "Good luck! Big Brother changed my life – and just remember, it's not just Big Brother watching you, the whole world is – so have fun!"
IK then took the continent on a tour of the slick new Big Brother Revolution house with its rich finishes, space-age design and incredible technology. Viewers will come to know the house well in the next 91 days as the housemates enjoy their new home.
With viewers still drooling over the luxurious new house, it was time for TK to introduce the first housemate – unassuming Zimbabwean Itai.  He entered the house with the applause of the crowd ringing in his ears, to a warm welcome from the Starmates. Next up was super-confident Ugandan Hannington, who made a dash to kiss the hand of the glamorous Khanyi before introducing himself to the rest of the Starmates and Itai. Third into the house was Teddy from Kenya – the self-proclaimed 'Mr Nice Guy' – whose first impression of the house was "whoa, this is one serious digs, man!"
K'Naan then rocked the continent with another hit – "ABC's" – before IK introduced the fourth housemate, Kevin from Nigeria, who entered the house with a swagger that suggested he'll be looking to rule the roost. Next housemate to join the fray was Botswana's Kaone, a livewire who got the studio audience jumping before meeting his new housemates. Sixth into the house – with still not a female contestant in sight – was Ethiopian Yacob, who promised viewers that he would "be real – just me". His first question on entering the house was "Whaddya mean – it's all male here?" The rest of the continent was just as surprised as he was!
While the housemates already inside the house pondered the lack of women behind the Big Brother door, IK introduced the South African contestant Quinn, who promised that his originality and personality would see him through to the finale on 6 December. Mozambican Leonel was next up, promising the audience a lot of fun before taking his first tentative steps into the house. Ghanaian firecracker George Tetteh Wayoe was the ninth housemate introduced to the continent, looking set to introduce a unique energy into the show and the house. Uganda's Phil and Jeremy from Kenya – already a hit with the ladies – were next in to join an increasingly-perplexed group of men inside the house.
Last on stage was Namibia's Edward – but true to form, Big Brother had saved the best for last! Moments after IK welcomed Edward to the stage, an identical stranger walked onto stage and joined them – Edward's twin Erastus! In a Revolutionary twist, Edward and Erastus will take turns to play the game as one contestant. One will live in seclusion in a secret location while the other plays the game, with switches occurring regularly. They are allowed to share their secret with 3 housemates, but should a 4 th find out, the game is over for both of them! Should they be successful in their ruse, Big Brother may decide to send them both into the game to compete for the USD200 000 prize.
K'Naan closed out the show with another hit, before IK drew a sigh of relief from the continent as he revealed that a group of female housemates would join the house next week – but not before the boys had to sweat through their first nomination, which will take place on Monday night.
Big Brother Revolution is broadcast live, 24/7 on DStv Channel 198 or 199 for the next 91 days. The daily show, live nominations and eviction shows will be broadcast on M-Net (DStv channel 101/102) while Africa Magic (DStv channel 107) will re-screen these shows.  Viewers can also stay up-to-date with the latest news and intrigue from Africa's hottest reality show by logging on to www.mnetafrica.com/bigbrother http://www.mnetafrica.com/bigbrother .