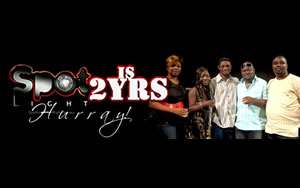 Spotlight is two years today, September 4, 2009. Through the creative minds of the producer from the Content Creation Group (CCG), Spotlight was designed to help assess the increasing reality shows and other entertainment shows on the network.
Spotlight has grown from strength to strength. This program throughout the show has featured lots of entertainment personalities both local and international. It has also helped indentified both young and old artists thereby throwing a challenge to many people to do more in their respective backgrounds.
Spotlight is now being used as reference point for some radio presenters on their shows as well as some newspapers and many people from the music, film and other industries.
Another interesting aspect is, Spotlight has survived without sponsorship but now seeks for sponsorship.
Spotlight assures viewers of more interesting and educative programs to come.
Spotlight ……. Spotting the right issues.
Originating at www.ghanacelebrities.com