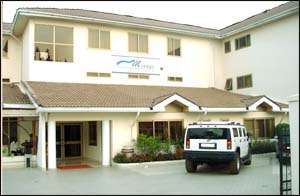 Mirage Hotel
GHANA'S HOSPITALITY industry keeps getting bigger and better by the day. In the past few years, the country has recorded an increasing number of hotels; clear indications that there is a growing demand for such amenities for the tourism industry.
The Mirage Royale Hotel is a leading luxurious hotel when it comes to providing top-notch hospitality. Having been in existence for only two years, the hotel's heterogeneous guest list proves its alluring and serene environment has always been a good choice for particularly the top class clientele whose status befits what the Royale in the hotel's name stands for.
Easily accessible, the Mirage Royale Hotel is located at East Legon. It is a ten-minute drive from the Accra International Airport and is adjacent to the A&C Shopping Mall, where our patrons can go to enjoy a wide range of up-scale last minute shopping.
Mirage Royale Hotel's uniquely designed edifice does not only meet the expectations of the astute business professional, visiting dignitaries and families on holiday, it also guarantees a great sense of security. The hotel's style of accommodation is different from that of its competitors. The rooms are very big and spacious.   
Basically, it has three categories of rooms. These include a presidential condominium, ambassadorial apartment and an executive suite. The presidential condominium, which is capable of hosting a whole family, is carefully designed with two master bedrooms, two regular bedrooms and two living rooms. It also has dining and kitchen areas and a mini conference room as well a balcony.
Unlike the presidential condominium, the ambassadorial rooms have a single master bedroom, a bathroom and a living room as against the executive suites which have only a master bedroom and a bathroom. All 38 rooms in the hotel boast of direct wireless internet access, direct dial telephone with IDD, 4LCD wide-screen TVs with international channels, air-conditioning, a mini bar and safe. Also available are hair dryers, a laundry service and room service.  
There is also a large pool area and a Jacuzzi in the centre of the hotel being overlooked by a glass fronted à la carte restaurant and bar which take care of parties and high profile outdoor events. The restaurant serves a wide range of local and continental dishes.
Mirage Royale Hotel also boasts of a 60 capacity conference room and a business center with secretarial services. Above all, the hotel rates are standard.
By Francis Addo & Halifax Ansah Addo