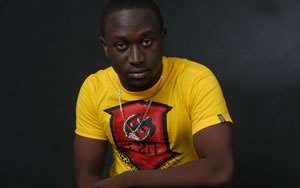 Richie, one of Ghana's brighest sound engineers

The Ghanaian music scene has seen a lot of changes in terms of style of music and artist of which sound engineers play a very crucial role in the production of the music itself.
Over the years, the hiplife music scene has seen a lot of sound engineers like Hammer who has the signature 'The last two'. Jay Q 'Jay Q', Apietus 'Apietus in the mix' and now the new sensation Richie who has the signature 'you know the name right' and recently 'It's a hit man'.
Richie doubles as a sound engineer and a musician and he can boast of uncountable number of hits to his credit.
Casting a light on how he started in an interview with New Generation, a program on TV Africa on Saturday, the prolific engineer/musician said his talent and love for music goes way back to his childhood.
He said he remember that when he was in Senior High School, one of his teachers told him he wasting his time studying science and that music is for him.
"After I finished High School, I wanted to attend a sound engineering school but unfortunately there was no sound engineering school in Ghana. I had no money to also travel outside the country to peruse the course." He said.
This made him to adopt his own way to be able to see his dream come through. From his humble beginnings, Richie now owns Lynx Entertainment and he has recorded a lot of artist including Asem, Irene, Okyeame Kwame, Obuor just to mention a few.
Richie who was inspired by artists like Kojo Antwi, Lionel Richie, Michael Jackson and Usher, came out with his first single, 'Frema' which became an instant hit.
He was happy that his record label, Lynx Entertainment is barely two years old has been widely accepted by Ghanaians and he wants within five years, he wants the record label's music to be heard and accepted the whole of Africa.
He has engineered hit songs like 'The game' by Obuor featuring Okyeame Kwame, Okyeame Kwame's 'Woso', Asem's 'Give me blow', Irene and Asem's 'Run away' and a countless number of hits so far.
Richie said people have complained that his songs are always one way but these same songs turn out to massive hits. Not with standing that, he is fusing different forms of beats to satisfy everybody. Some of his latest songs like 'Dirty dance' which is a bit different from his regular style.
He said he has introduced a dance and singing training section to the Lynx Entertainment label to train people how to sing and dance. The label currently has Asem, Irene among others already signed onto it.
The hit maker said the youth of today are very creative but don't have the opportunity to display their creativity but he was very hope of the future.
Story by Aglanu Dela Ernest/Myjoyonline.com/Ghana