August 13, 2009
|
Hiplife News
SKILLIONS - The group with a million skills
brown berry -pinnaclegh.com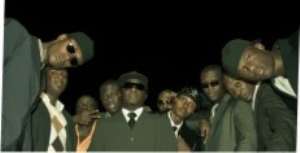 Ever since I heard some tracks off the "Skillions Demo Tapes", I have always stood in awe at their rap prowess. They've got the lines, the flow and the attitude. Skillions or SK as the group is called, was formed in the late 90's. it all started as a rap group with Paul 'JAY SO' Nuamah Donkor and Terry 'T-KUBE' Thomas Tetteyfio.Adablah ( EL) , Stefen Menson (J-TOWN), Francis Kuma (JINX aka FRANK P), Albert Hanson (BALL J), Ronald Larbi Yeboah (MIDKNIGHT), Sandra Huson (SANDYSWIZ) are the current active members of the skillions' team.
A couple of years later, they decided to increase their number by admitting people with various skills like fashion designers, graphic designers, video makers etc. This was in a bid to fulfill their vision of making the group a diversely skills–rich one. The group can now boast of more than 15 dedicated members. The latest batch of rap talents to be admitted into the group are LIL SHAKER, JOEY B, GRAFIK and KILMATIC (together called the Mic Wreckers), 00KEVIN (pronounced double O kevin), DA THIRD, RUMOR, NOBLE, GREENFIELD etc.
I can confidently say that Skillions have the most formidable rap camp in Ghana. They are credited for the pivotal role they played and keep playing in the Gh rap industry. They've had contacts with Wyclef Jean, Jay Z, Akon, Sean Paul, 2face Idibia, Naeto C, Ikechwukwu and other artists of international standing.
A peek into their camp suggests that these determined dudes are poised to set international standards in the Ghanaian Music Industry. With the caliber of music enthusiasts Gh Rap appeals to, I can bet my last GH cedi on the speculation that Skillions is set to be one of the biggest names in the Ghanaian Music Industry.
Originating at www.pinnaclegh.com