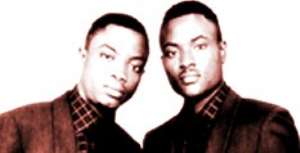 A few weeks back I was listening to an entertainment review programme on Radio, the host had a new duo in the studio because they had decided not to pay bribes commonly called PAYOLA for their songs to be played. The duo complained bitterly about the decision of some Radio Presenters not to play their songs because they will not pay. What was striking though was that in the midst of all their complaint they had decided not to pay for play.
They went as far as saying they would not pay for play although they could play. According to them some Presenters were playing their song because it was good. They had such belief in the single they had put out then and in their talent and ability. These are young guys who were determined to make it and make it the right way.
http://www.pinnaclegh.com introduces the duo "Tweens". Tweens is made up of Manuel Kojo Amegbe and Henry Kojo Gyan. They are a cross genre group, they do Hip hop /R & B/ Pop and Hilife music. They have three Single already in the syatem and are working on their debut album "EVOLUTION" The duo are signed onto NAB NAF ENTERTAINMENT which they own.
Manuel sings while Henry Raps. They blend HILIFE and that of R & B/ Hip hop music
Into unique music; music you should listen to.
Originating at pinnaclegh.com