July 22, 2009
|
Interviews
Exclusive Interview With Eddie Nartey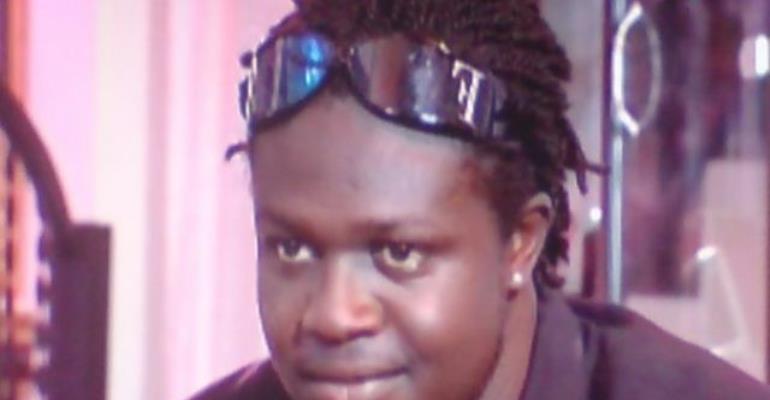 Actors like Majid Michael, Van Vicker, Kofi Adjololo, Ekow Smith, Adjetey Anang, Chris Attoh, etc are the ones we look out for whenever one is watching Ghanaian movie but honestly, a name like Eddie Nartey surely doesn't ring a bell in our ears not even to the layman on the street.This guy is a firm believer and has real talent.
After encountering disappointments from several auditions,he remained unperturbed and keeps on persisting because to him he believes that God has endowed him the talent to act. Grabby as he is affectionately called by his friends, was not born into family of actors, he has to start from the scratch.
As we all bear witness to the fact that it is extremely difficult for a new actor to break into the scene in Ghana, you can imagine how long he has to wait to get his break. He has been featured in numerous Advertisements and his current one is the new Vodafone advert. He was the referee who awarded the Vodafone team. Those of you who are familiar with Venus Film Production might have seen Eddie Nartey do his thing in movies like Crime To Christ. Yes I mean 'Crime To Christ' alongside prominent actors like Majid Michael, Kofi Adjololo, Oumson Bah Omar De 1st. His performance in that movie caused producer Abdul Salam Mumuni to change his mind and hand him a leading role in 'Tears of Womanhood'. A role that was initially reserved for Van Vicker until then.
Eddie was born in 1983. He attended the Holy Trinity Cathedral Senior High School and currently is in his final year studying Performing Arts at the University of Ghana. "I had to struggle also to catch the producer's attention. I started with Pacesetters Company, a stage performing group by Aluta of 'Things We Do For Love' fame and then moved on to another stage performing group but this time Kozi Kozi, a group owned by the ace Ghanaian actor David Dontoh of Agoro fame."
"I wasn't born into a family of actors," he said jokingly."I remember always coming home disappointmented after attending auditions upon auditions, but myself and my colleagues; including you Ebenezer (referring to me) believed we really have something in us that the whole world needs to know. I think we are now telling our own story in our own way. I still reminisce those years when I, Solomon Fixon Owoo, Patrick Safo, Joshua Yartey and you walk to several auditions, apparently, we didn't have money on us, after walking to National Theatre to rehearse with Harrisco then to Arts Centre for another rehearsals with Pacesetters and close late in the night. Sometimes, I just look back but I don't see any of you behind me, you guys have left me on my own to do the struggle all alone, but that's life."
Ghanacelebrities.com:Laughs. Yes I know but some of us left the scene to do other stuff. I still remember The Arthur's, apart from that, what else have you done so far.
Eddie: Ebenezer, after several disappointment, I thank God, the producers of The Arthur's eventually really saw something in me. That was my first on-screen project. After the exit of The Arthur's on our screens came Choices. Then came District Colonel Court, which is produced by TV3/Gama Films and its still running on your screens to date.
Ghanacelebrities.com:How did you meet producer Abdul Salam Mumuni of Venus Film Production.
Eddie: You know in Ghana the likes of Majid, Van Vicker, Ekow Smith are more preferred to us, the young and upcoming ones. Because producers believe their faces can sell more movies. Abdul Salam Mumuni organized an audition for one of his movies Wedlock of the Gods, I was picked and that was my first movie with Venus Productions, I was featured in the Return Of Beyonce and Crime To Christ. I have done movies like In The Eyes Of My Husband, Passion and Soul, Girls Connection, Agony of the Christ. I have a couple of movies which are not out yet like Fantasia with Rita Dominic, Van Vicker, Nadia and Yvonne. Also with Mike Ezeronye in One in a Million, Shakira with Mercy and Majid, which are all yet to be released.
Ghanacelebrities.com:The only leading role you have played so far, was in Tears of Womanhood, tell us the role you played in that movie.
Eddie: sometimes, I do not want to talk about the circumstances that lead to me playing a role in that movie. Anyway I played the character David Boateng, and I was an adopted child of Psalm Adjeteyfio and Nana Hayford and Majid Micheal was my junior brother. I got torn apart from my parents when I made the decision to choose my own bride.
Ghanacelebrities.com:Okay, enough. Where did your audition for that lead to?
Eddie: No, its so funny, I was told bluntly to the face that I wasn't fit for any role in that movie, am sure you do not want to know how that made me feel. Van Vicker was initial or originally casted for that role but he wasn't in the country by then, so I had a surprise call and the rest they say is history. I was given that role eventually.
Ghanacelebrities.com: So were they impressed?
Eddie: Impressed you said? That's an understatement, they were really impressed, at least their countenance made me feel they were indeed happy with how I handled the role and I apart from them, I got several comments and calls from other people and my fans congratulating me a job well done.
Ghanacelebrities.com: Laughs. I am your biggest fan but I have not called yet. How come? I have always said to myself that if I have that money I would just promote you.
Eddie: I know you've not called because you have not seen that movie. I know you will start disturbing me with calls after seeing that movie. It's a must watch movie, you really need to see it.
Ghanacelebrities.com: There is this rumour that producers and directors always want to have an affair with the ladies, before they are given roles to play in movies, what stiffer punishment do you suggest for those find culpable.
Eddie: (Laugh) fortunately, for me, am a man, so I do not think somebody has to sleep with me before I get a role. How about that for an answer? On a more serious note, I think it's bad, that is if it's happening. I have heard people in the movie industry talk about it on daily basis, including the president of Ghana actor's guild Mr. Samuel Odoi Mensah. Movie directors and producers are responsible. Maybe those who have fallen victim can come out publicly, say it then we can see how best to solve that issue.
Ghanacelebrities.com:You got to be kidding, if your sister has fallen victim, you want her to come out publicly and say that she slept with a director to get a role?
Eddie: As far as am concerned, I think that will help but if that can't be done then we have to let the sleeping dog lie.
Ghanacelebrities.com:Ghanaian producers are now changing the face of Nigerian scripts, producing it and making it theirs. Why this trend?
Eddie: I have not noticed anything of that sort, what you are saying is news to me but if there is any iota of truth in that then I think It's too bad a thing to do, if we do that then where is our sense of creativity. People are tired of old story line we know, its even common to the layman on the street. I think it's high time, we woke up and created our own stories. We have a lot of beautiful things that goes on in the country, we can we pick on them, write about them, produce them to the outside world, instead of producers changing the face of other people's stories and making it our own, that's no creativity. I think the stakeholders, the association of movie producers and the chair of Ghana actor's guild can help curb this worrisome trend.
Ghanacelebrities.com: Ghanaian producers have this notion that a movie without a Nigerian presence cannot stand a test of time, but who can be find culpable for this notion.
Eddie: Please this is too sensitive and I would not want to comment about it, all I can say is that we complement each other.
Ghanacelebrities.com:So what's your relationship with the known and experience actors, especially you being a new face.
Eddie: Well, am very cool with them, there is good rapport with them all, Majid especially, I relate to them in a good way, we are simply good friends. We call each other when we feel like, you know it's a free world; we have a good working relations and share jokes together. #
Ghanacelebrities.com:Do they sometimes look down upon you?
Eddie: Hell not at all.
Ghanacelebrities.com:Impression on the Ghana movie industry.
Eddie: (sighs) I think it's growing, and that's what we need growth, I look forward to seeing it at a much better place, where actors can enjoy the fruit of their labour, where actors can afford basic things, where actors can be paid well, where actors can live on their salaries.
Ghanacelebrities.com:In your own words, what could be done to improve the face of Ghollywood?
Eddie: Producers must produce good movies, its high time, we the upcoming ones should be used more in movies. They should avoid the situation where one person plays the role as a scriptwriter, producer, director and etc. If I could re-echo what Oumson Bah Omar De 1st said in his interview to BEATWAVES.Nigerians take a big star and give him or her two or three scenes and also pick new faces and bring them up. Why can't we do that? Whenever you see Nadia, Jackie, Van Vicker or Majid in a movie, they are playing almost everything." We have to be given the chance to sharpen our talents, because if they use the same old faces, movie lovers would be compel to shun our movies, they are just fed up with the same old faces in virtually every movie.
Ghanacelebrities.com:So are you married? I know the girls will worry you and all that, are you going out? Who is that lucky girl?
Eddie: Well, funny and I know people might not believe it but am still a virgin. I wouldn't want to say anything more.
Ghanacelebrities.com: Where is my share of the Vodafone Advert money?
Both laugh.
http://www.ghanacelebrities.com/index.php/exlcusive-interviews/318-exclusive-interview-with-eddie-nartey
By: Ebenezer Anangfio Jnr.
[email protected]