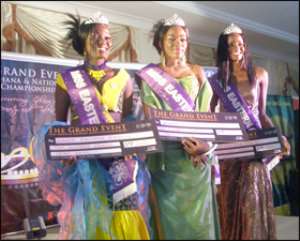 Miss Eastern Region, from left, Priscilla, Pamela, Christiana
President Barack Obama's name popped out strongly at the Eastern regional contest of this year's Miss Ghana and National Dance Championship held over the weekend at the new Capital View Hotel in Koforidua to select the Eastern regional representatives for the ultimate shows in September in Accra and Kumasi respectively.
During the beauty contest in which 17 young, beautiful ladies participated, a contestant was asked why President Obama of the United States of America decided to visit Ghana on his first ever visit to sub-Saharan Africa.
In an answer, contestant No 6, Joyce Ashley, told the audience that Obama was a Ghanaian and wanted to trace his root that was why he came to Ghana.
Her answer threw the whole hall where the event was being held into prolonged laughter.
At the end of the questions and self-introductions of the 17 contestants and their individual philosophies, the judges settled on 22-year-old Building Technology student of Accra Polytechnic, Christiana Amponsah Darko; 23-year-old Marketing student of Regent University, Pinky Pamela Adarkwa; and 20-year-old student of Trans-Africa College who had just completed her advanced diploma in Journalism as the three finalists, two of whom will eventually represent the region at the grand final in Accra in September.
Each of the three finalists received a cheque for GH¢200.
Members of the public would be expected to vote out one of the finalists.
After the crowning of three finalists, some of the event organisers were heard by BEATWAVES complaining about the choice of 23-year-old Ms Adarkwa because they think she has multiple piercing on her ears which goes contrary to Ghanaian culture.
According to the complainants, because the contestants were a bit far away from the judges, that was why they were not able to scrutinise them very well and thus suggested that in the subsequent regional events, the contestants should be asked to parade themselves right in front of the judges for them to make a better judgment.
In the dance division, 19-year-old former student of Ghana Senior High School at Koforidua exhibited extraordinary dancing skills with a lot of flexibility to emerge the winner, beating another bold female dancer, 19-year-old Martha Marbell, to the second place and 30-year-old Shadrach Papoe to the third place.
The dance winner took home a cheque for GH¢200 while the first runner-up took home GH¢100 and the second runner-up pocketed GH¢50.
The next regional train will stop at the Volta regional capital, Ho, on July 25.
This year's Miss Ghana and National Championship being organised by Media Whiz Kids has the theme "Re-discovering Ghana's True Beauty and Talent" and is expected to be a huge one with the winner of the Miss Ghana taking home Tata 4x4 Safari donated by PHC Motors.
From Thomas Fosu Jnr, Koforidua