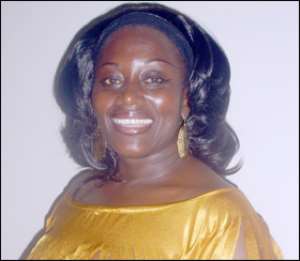 Akumaa Mama Zimbi As part of efforts to bring women together and encourage them to undertake projects to improve on their lives, Adom FM's presenter of 'Odo Ahumasuo,' Akumaa Mama Zimbi, has inaugurated a widows' association called Women Alliance for Development at Hikpo in the Volta Region.
The association is among over 200 widows' organizations under the parenthood of Mama Zimbi Foundation (MZF).
The Hikpo branch of the association is led by the Queenmother of the township, Mama Adawu II, who emphasized the need for all citizens to support activities that help to alleviate poverty in the society.
At the inauguration ceremony were various Chiefs and assembly members as well as the Atsagbekor and Atigo drumming groups who treated the gathering to some exciting performances.
The Queenmother praised Akumaa for her vision of supporting widows and their needy children, and also for being a true role model for all young women in Ghana.
Akumaa used the occasion to encourage the over 300 widows present to be hard-working and take good care of their children, adding that the children remain their only hope and future security.
She later inspected an ongoing building for the Corn-Mill Project for the women which MZF is expected to fund and complete the second phase by the end of the year. She appealed to donors especially indigenes of the community to support the project.
 By Francis Addo